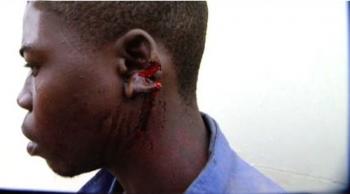 A 24 year's man of Lusaka's Kanyama compound, who had his ear sliced by his Chinese employer in October this year at Twin Palm Zambia Air Force Base, has withdrawn the case.
Douglas Mwila, who sustained a deep cut on his left ear after being hit with an iron bar by his employer Guo Haisheng of China Jiangxi Corporation limited following a dispute over works on drainages, today appeared before Lusaka Magistrate Aridah Chuulu.
When the matter came up for trial, Mwila told court that he was ready but expressed his intention of withdrawing the matter adding that he thanked God for serving his life.
He told Magistrate Chuulu that he has learnt of God's mercy and the importance of forgiveness.
He told court that Haisheng has shown remorse for his actions adding that the accused had taken care of all travel, medical and food expenses since he was assaulted.
He stated that the two parties have agreed to have the matter withdrawn before court.
Mwila stated that he has since recovered and will be reporting for work on Monday next week as his sick leave ends this Friday.
However, magistrate Chuulu wondered if Mwila was well informed about his decision and consequences that may come with the withdrawal.
Magistrate Chuulu asked if he truly wanted to withdraw the matter.
In response, Mwila told the court that his forgiveness was coming from his heart and was sure of what he was doing.
"Your honour, I have not been induced to withdraw the matter. I just want to forgive him," he said.
In passing ruling on the matter, magistrate Chuulu said since the complaint had insisted that he had made a decision to withdraw the matter, the law does not stop people from doing so.
He said the law allows a person to be acquitted according to section 204 of the criminal procedure code of conduct.
Meanwhile, magistrate Chuulu warned Haisheng to restrain himself next time he picks an argument with anyone adding that if he commits another case, the courts will not allow the complaint to withdraw the matter.
She warned that the Chinese should not take advantage of the Zambian workers in any way saying the law in Zambia will not defend anyone found wanting.
ZANIS