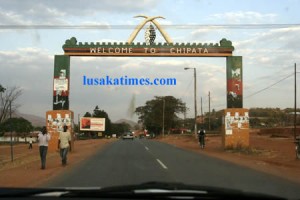 A 33 year old man of Kaipalile village in chief Mafuta's area in Chipata district died after being attacked by an angry mob.
This was after the deceased, identified as James Mbewe, unlawfully assaulted 68 year old Jabson Henry of the same village by axing him on the head.
Police Spokesperson Elizabeth Kanjela disclosed that the incident occurred on Thursday, December 27 around 20:00 hours when the deceased followed Mr. Henry to his house where he axed him.
Ms. Kanjela told ZANIS in a statement in Lusaka today that the mob descended on Mbewe when Mr. Henry shouted for help.
She said villagers went to Mr. Henry's house after he shouted for help and they started beating the deceased leaving him seriously injured.
Ms. Kanjela said Mbewe was rushed to Chipata General Hospital where he died later.
She said the motive of the attack on Mr. Henry is not yet clear and that the body of the deceased was lying in Chipata General Hospital mortuary awaiting post-mortem.
And in a related development, a 31 year man identified as Douglas Kalwazhi of North-western province was found dead by the road side in a pool of blood in the early hours of today.
Ms. Kanjela said the police found the deceased with two deep cuts on the head, the lips and a swollen face and head.
She said police suspect that an unknown object must have been used to inflict the injuries.
The Police Spokesperson said a heap of beddings that included blankets, mattress covers, duvets, bed sheets and Chitenge material were also found at the scene of the crime.
She said police suspect that the deceased must have been attacked by a mob and that no one had come forth to claim ownership of the items.
Ms. Kanjela said the body of the deceased was lying in Solwezi Hospital mortuary pending post-mortem while a docket of murder has been opened and investigations have been constituted.
She appealed to members of the public to desist from taking the law into their own hands through the act of mob justice.
Meanwhile, police in Luapula have arrested a 34 year old woman identified as Mwewa Belani for allegedly causing the death of her friend Catherine Chalwe aged 32 years of Musaila village in Samfya district.
It is alleged that on December 8, Ms. Belani and Ms. Chalwe fought after a dispute and the latter was overpowered.
Ms. Kanjela said Ms. Chalwe later reported to the police that she had been assaulted.
She said on December 28, Ms. Chalwe died around 15:00 hours and the body is lying in Samfya district hospital mortuary while Ms. Belani has been picked up by police as a suspect and investigations in the matter have continued.
And police in Lusaka have recorded a defilement case involving two children aged three and five in Chipata compound.
Ms. Kanjela said the incident occurred yesterday when the mother of one of the children sent the two minors to buy cooking oil at a kiosk around 18:00 hours.
She said the children were later reported missing and at 19:00 hours, the two were found but the five year old was unconscious and her private parts were bleeding.
She said investigations into the matter have since been instituted and the children have since been taken to the University Teaching Hospital (UTH) for treatment.
She said medical reports have been issued.
Ms. Kanjela urged parents and guardians to be more responsible especially over children saying they risk being charged with negligence.
ZANIS