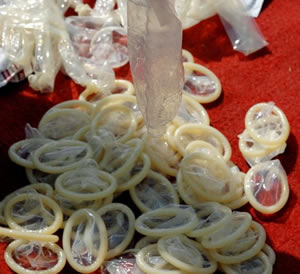 CYCORP, a firm that specializes in issues of intellectual property has disclosed that the majority of condoms sold on the Zambian market are fake.
"This is really sad and the saddest part is that the most popular brands in Zambia are the most counterfeited ones," says Kingsley Nkonde, CYCORP Managing Director.
"Mostly these favoured or scented condoms are counterfeit and that means there is no guarantee that they will work efficiently. Flavours like Banana are mostly pirated condoms," Mr. Nkonde said.
Mr. Nkonde told a media briefing in Lusaka that his organisation is concerned that the influx of fake condom brands on the Zambian market might derail the country's HIV and AIDS response.
"We are now working with SHARE II, a US funded HIV and AIDS organisation to addressing the challenges that fake condoms pose in our country," Mr. Nkonde said.
He said the Zambia Bureau of Standards does not have capacity to test all the different brands of condoms that enter the Zambian market.
The intellectual property expert said condoms, electronics, mobile phones, vehicle spare parts, soft drinks and sanitary pads are some items that are mostly pirated in Zambia.
Mr. Nkonde also called for an intensified fight against piracy which he said is fueling the illicit trade in pornographic DVDs in Zambia.
"When you talk of pornography, the target is sadly, young school girls. Young boys are mostly not involved in buying and watching pornographic DVDs, the issue is with young girls," he said.
"These DVDs are produced in large numbers in backyard production houses and sold to young girls and unfortunately, when you expose a young girl's mind to pornography, she will go out and experiment and increase her chances of getting HIV."