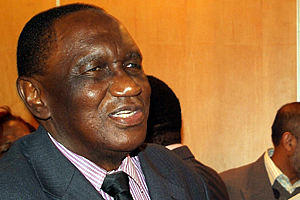 VETERAN politician Sikota Wina, a longtime resident of Lusaka, says he used to walk on a daily basis from his home in Matero to his workplace at old Freedom House on Cha Cha Cha road despite being a graduate.
Mr Wina said walking to work was not a big deal as there were no minibuses that time and that one was considered rich if they owned a bicycle.
"We would also walk from Matero to Chilenje and we never complained because we were used to it," he said.
Mr Wina recalls living in a two-bedroom thatched house despite being a Minister of Education adding that the upper class lived in Matero, which was the first compound for Africans in Lusaka.
He also remembered how Vice-President Guy Scott's late father, Dr Alexander Scott, was the first person to build a house in Lilanda and allowed Africans to build houses on his farm.
There was segregation as shops and places which were demarcated for whites were a no-go area for Africans.
"The old man KK was forced to become a vegetarian because he was not allowed to buy from their shops," he said.
Mr Wina also recalls getting arrested in 1954 when he, his brother Arthur Wina, friend Wesley Nyirenda and others smartly dressed in suits and deliberately went to one of the restaurants for the whites pretensiously ignoring that it was a no-go area for them.
"Within seconds, the police came to our table telling us to get out. They told us that African dogs were not allowed there and we told them that we did not read what was on the door before entering the restaurant," he said.
Mr Wina said he and his friends were later taken to Central police station but they were released when they told the police that they had not done anything wrong after being asked if they were causing any trouble.
He said during his youth, Africans were not allowed to own shops in town but were only allowed to build shops in villages.
Mr Wina went to one of the oldest schools in Lusaka, Munali secondary school ,which boasts of producing the first President Dr Kenneth Kaunda and his entire cabinet after independence in 1964.
The school was first situated at David Kaunda Secondary School before it was moved to the new Munali Secondary School premises in 1946.
"The school produced the first graduates in the country and I came from Mongu, which was located in a bush. We were using English and were only allowed to use our local language on Sunday.
"The school helped us break tribalism in the country as we all came from different tribal lines," Mr Wina said.
He added that education helped Africans get their independence.
[Read 41 times, 1 reads today]