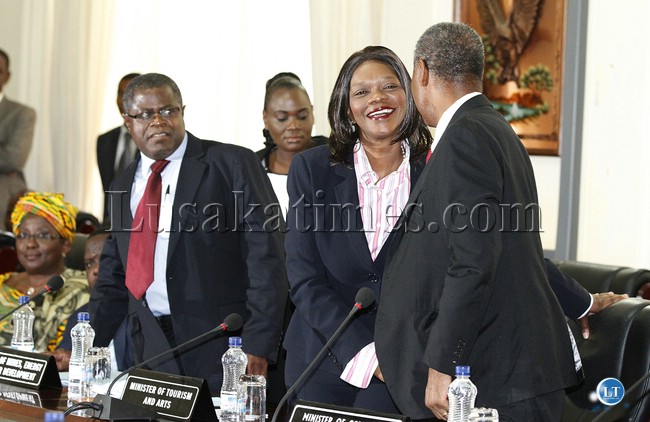 THE Lusaka High Court has discharged a stay of execution of the High Court judgment granted earlier to Attorney General Mumba Malila to halt the commencement of a tribunal constituted to probe Tourism and Arts Minister Sylvia Masebo.
This means that the Tribunal constituted by acting chief justice Lombe Chibesakunda to probe Ms Masebo's alleged interference in the operations of the Zambia Wild Life Authority (ZAWA) would go ahead pending Mr Malila's appeal in the Supreme Court.
This is in a matter in which former communications and transport minister William Harrington had through a judicial review challenged the decision of Ms Justice Chibesakunda to refuse to appoint a Tribunal to probe Ms Masebo.
But in his judgment Justice Dominic Sichinga said Mr Harrington had the right to be heard through a tribunal.
Ms Chibesakunda later appointed a tribunal to probe the allegations against Ms Masebo.
The Attorney General appealed against Mr Justice Sichinga's judgment and was later granted an ex-parte stay of execution of the judgment subject to an inter-parte hearing on February 4, 2014.
Mr Harrington through his lawyer Gilbert Phiri had asked the court to lift the stay granted to Mr Malila saying the declaratory judgment granted to him by Mr Justice Sichinga was not enforceable and as such it could not be challenged.
In his ruling yesterday, Mr Justice Sichinga lifted the stay granted to Mr Malila saying he did not find sufficient grounds to agree with his claim, that if the judgment was not stayed, his appeal to the Supreme Court would be rendered nugatory and would be an academic exercise.
"For reasons stated above I find that order to stay is apt for review. The order of stay earlier granted to the respondent on 16 November 2013 is hereby lifted with costs to the applicant" Mr Justice Sichinga said