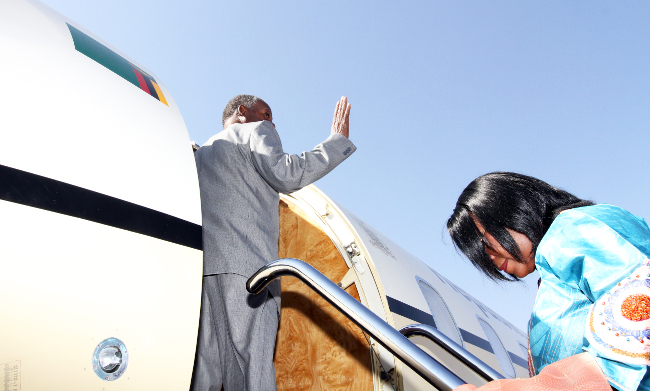 Republican President Michael Sata has arrived in Isreal for a working holiday. This is according to a Government statement released to the media by Acting minister of Information and broadcasting Mr Mwansa Kapeya.
According to the statement, the president is in Isreal at the invitation of invitation of out-going Israeli President His Excellency Mr. Shimon Peres.
While the president is away, Minister of Justice Mr. Wynter Kabimba will act as Republican President.
Below is the full statement
Republic of Zambia
Ministry of Information and Broadcasting Services
STATEMENT BY HON. MWANSA KAPEYA, MP, ACTING MINISTER OF INFORMATION AND BROADCASTING SERVICES AND CHIEF GOVERNMENT SPOKESPERSON ON HIS EXCELLENCY THE PRESIDENT MR. MICHAEL SATA'S WORKING HOLIDAY IN ISRAEL
His Excellency the President Mr. Michael Chilufya Sata has arrived in the Israeli capital Tel Aviv on a working holiday at the invitation of out-going Israeli President His Excellency Mr. Shimon Peres.
President Sata, who is accompanied to Israel by First Lady Dr. Christine Kaseba Sata and other senior government officials, was received by Zambia's Honorary Consular-General to the Republic of Israel Her Excellency Ms. Ronit Hershkovitz.
While in Israel, President Sata will among other important engagements, have meetings with out-going Israeli President Mr. Shimon Peres and Israeli senior Government officials.
The President will also hold meetings with Israeli businessmen who are interested in investing in Zambia's rural industrialization project.
Hon. Mwansa Kapeya, MP
ACTING MINISTER OF INFORMATION AND BROADCASTING SERVICES AND CHIEF GOVERNMENT SPOKESPERSON
22nd June, 2014