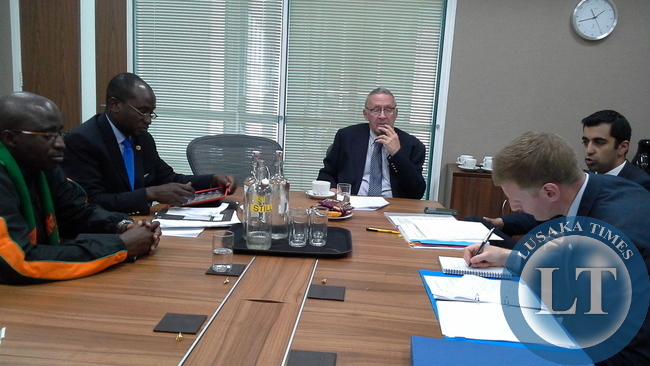 Republican Vice President Guy Scott has urged the Scottish government to enhance its interests to invest in Zambia especially that the two countries share an economic relationship dating back to over 100 years .
Dr. Scott, whose father was Scottish and was educated at Glasgow University in Scotland over 100 years ago, said the trade partnership between Zambia and Scotland should be enhanced.
He said Zambia had a conducive investment climate which Scotland could exploit to the maximum in many areas of the country's economy.
Dr. Scott was speaking in an interview with ZANIS today in Glasgow where he attended a Commonwealth Games Business Conference on the eve of the official kick-off of the 2014 Commonwealth Games in Scotland.
"I am an example of someone whose father invested in Africa 100 years ago. He was from this town (Glasgow) actually and this is his university where he got his medical degree more one hundred years ago," he said.
He said there were about 2,000 Zambians living in Glasgow alone, a situation indicating that the two countries were enjoying warm bilateral relations.
Earlier in the conference, Scottish First Minister, Alex Salmond, said Scotland was assisting many developing countries in various sectors of the economy adding that Zambia was among these nations.
In 2011, Scotland established the Climate Justice Fund from which Zambia, Rwanda, Tanzania and Malawi will benefit between 400,000 and 500,000 Pounds each over a period of two years in activities aimed at mitigating effects of climate change.
A total of about Six million Pounds has been set aside for four African countries currently partnered under the Scottish International Development Fund.
Mr. Salmond, who officially opened the conference today, said the Climate Justice Fund will help communities affected by climate change through among other benefits, access to clean and safe drinking water, education and poverty alleviation.
He noted that the fund was a powerful commitment from a nation that was determined to help the Commonwealth family in issues of democracy, human rights, gender equality and sustainable development.
Dr. Scott was accompanied to the conference by his Senior Private Secretary, Robert Kamalata, First Secretary for Press at the Zambian Mission in the United Kingdom, Amos Chanda and other senior government officials.
The Vice President is in Scotland to witness the official opening of the 2014 Commonwealth Games in Glasgow tomorrow.
Yesterday, Dr. Scott encouraged Zambian athletes to 'die a little' for their country during the competitions which run from tomorrow, July 23rd to August 3rd, 2014.
Zambia has 43 athletes competing in eight different sports disciplines includng badminton, bowling, boxing, judo, running, table tennis, squash and swimming.
The runners are Titus Kafunda, Emmanuel Mwewa, Cephas Nyimbili, Prince Mumba, Saviour Kombe, Kabange Mupopo, Rhoda Njobvu and Ivonne Nashuwa while badminton players are Ngosa Chongo, Chongo Mulenga.
In bowling, Zambian representatives are Bryson Mweetwa, Harry Musonda, Bright Mwanza, George Chibwe, Matimba Like, Sophie Matipa, Evelyn Namutowe, Eda Mpenzeni, Foster Banda and Christie Kapata while boxers are Bwalya Lumbwe, Christopher Katanga, Charles Lumbwe, Mbachi Kaonga and, Ben Muziyo.
Abigail Chindele, William Kalunga, Mathews Punza and Boas Munyonga are judokas, Kelvin Ndhlovu, Manda Chilambwe, Namweene Muchaile, Mwinga Lengwe and Sharon Chinfwembe are the squash players.
The rest are swimmers Alexandros Axiotis, Mathew Shone, Milimo Mweetwa, Tilka Paljk, Ralph Wesley Assafro, Jade Howard and table tennis players Friday Ng'andu, Noel Kasanda and Simasiku Kalaluka.