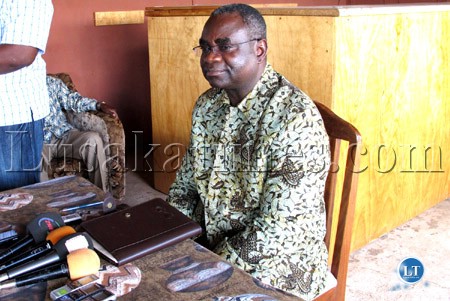 THIRTY-SEVEN MMD members of Parliament (MPs) have reaffirmed they will still rally behind UPND leader Hakainde Hichilema despite Nevers Mumba being reinstated as MMD presidential candidate.
"As MPs, we will not go backwards on our decision to support HH because that is what we had agreed to do. We are principled people. Dr Mumba was supposed to have consulted us after winning his court case but he didn't," MMD chairman Kabinga Pande said.
Speaking at a press briefing, Mr Pande said the national executive committee under the guidance of Dr Mumba had earlier resolved that the MMD will work with the UPND alliance to ensure that Zambians are liberated.
"We shall stay principled and fulfil our promise to work with the UPND and ensure Zambia is liberated and put back on the right path to prosperity. The alliance does not mean that the MPs are joining or defecting to the UPND," Mr Pande said.
He stressed that MMD MPs are merely working with the UPND, adding structures of the party will not be affected.
Meanwhile, Zambezi East MMD Member of Parliament Sara Sayifwanda said it is unfortunate that Dr Mumba filed his nominations without support from his MPs.
Ikelenge MP Elijah Muchima, Kasenegwa MP Victoria Kalima and Rufunsa MP Kenneth Chipungu were among the members of parliament that attended the briefing.
A few weeks ago, some MMD MPs led by Lunte MMD MP Felix Mutati joined an alliance to support the UPND candidate Hakainde Hichilema for the January 20 presidential election, a decision the then party national secretary Muhabi Lungu described as gross indiscipline.