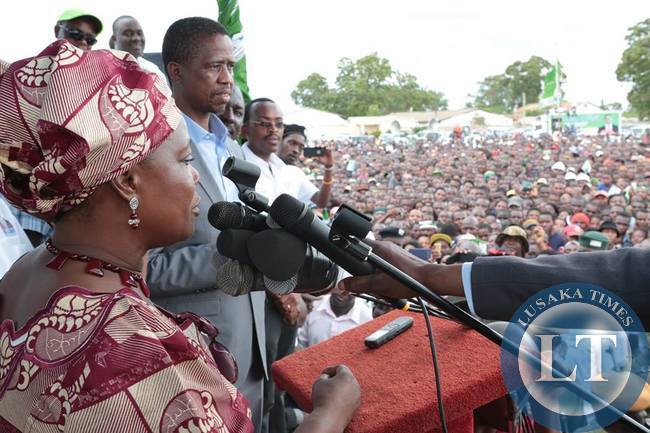 THE family of late former President Levy Mwanawasa has endorsed the candidature of Patriotic Front (PF) president Edgar Lungu in the forthcoming presidential election.
Family spokesperson Miriam Mwanawasa, who is a daughter of late President Mwanawasa, said the family has decided to back Mr Lungu as he has leadership qualities which are a virtue for law and order.
"As a family, we have recognised the leadership qualities and trust that President Sata saw in him. Honourable Edgar Lungu is a lawyer like our late President Mwanawasa and we are confident that this will be a good virtue for law and order," she said.
This is according to a statement released by Ms Mwanawasa in Lusaka yesterday.
Ms Mwanawasa said the family is also supporting the PF due to the good relationship and honour that the late President Sata bestowed on the Mwanawasa name and legacy.
"Zambians will remember that when President Sata fell ill in 2008, it took the personal intervention of President Mwanawasa to save his life. Mr Sata was evacuated from CFB Hospital to Milpark in South Africa.
"Although the two were political adversaries, this episode brought them together," she said.
Ms Mwanawasa said the family is happy that Mr Sata's administration named the Ndola stadium after Dr Mwanawasa.
"He also named the new Lusaka district hospital after President Mwanawasa. As a family, we have decided to accept this honour by ensuring the legacy of President Sata lives on, too," she said.
Ms Mwanawasa said the family is also endorsing Mr Lungu due to the numerous development projects embarked on by the PF administration.
"We recognise initiatives like the Link Zambia 8000, Pave Zambia 2000 and the massive infrastructure development of schools, universities, clinics and hospitals.
Therefore, we urge Zambians to support Mr Lungu, whom the party has chosen," she said.