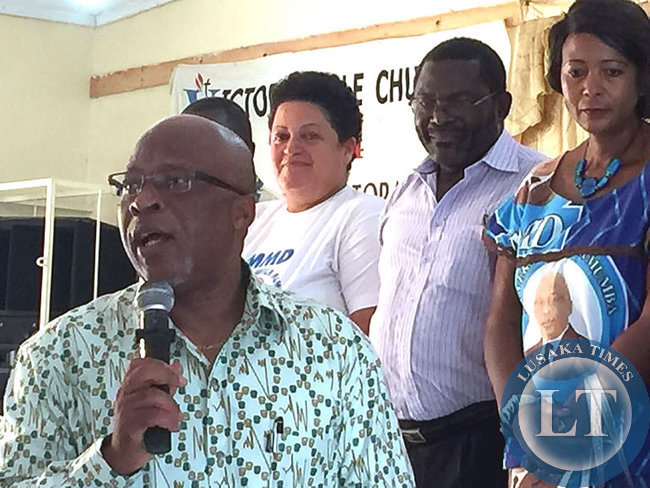 MMD President Dr Nevers Mumba's lawyers Besa Practitioners have written to expelled former National Secretary Muhabi Lungu through his lawyers Shamwana & Company to warn him that he risked being cited for contempt of court.
This follows Mr Lungu's recent action to announce that a NEC meeting shall be convened today to discuss the MMD presidential candidate.
In a strongly worded letter, Mr Lungu has been warned to respect the Supreme Court ruling which resulted in Dr Mumba being adopted as the candidate for the MMD in the 20th January 2015 presidential election.
Part of the letter reads: "Should your client proceed with the NEC meeting to discuss and adopt another presidential candidate while this matter is still pending in the High Court, we shall not hesitate to commence contempt of court proceedings".
This is according to a statement issued by the MMD Media Team.
And in an interview, Dr Mumba emphasised that the purported NEC meeting is illegal and should not be held.
"If they hold one meeting, it would just be an illegal gathering that would invite contempt of court on Mr Lungu and all those that would be present," Dr Mumba said.
On the issue of MMD MPs who have endorsed UPND leader Hakainde Hichilema, Dr Mumba said the matter will be table and a decision made.
"On the issue of those that have decided to support other candidates during the time we were having difficulties with Mr Banda, we are having a meeting at which we are going to determine their matter. There is a big decision that they will have to make that hinges on their continued stay as Members of Parliament in the House if it is proved that they have crossed the floor in terms of the action they have taken but for now it is too early to make a firm statement on that situation because we will soon be having a meeting where we are going to table that matter."