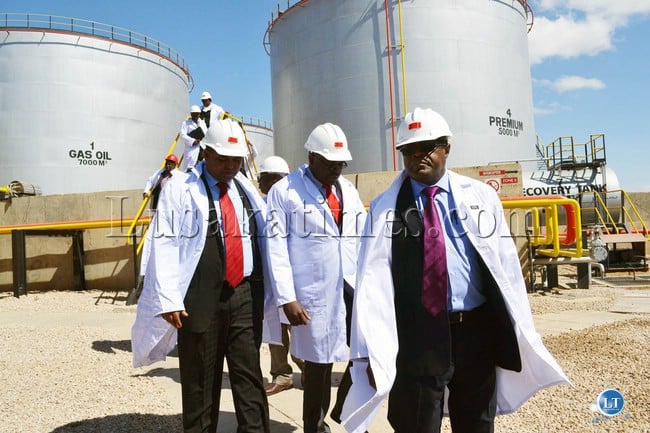 MINISTER of Mines, Energy and Water Development Christopher Yaluma has dismissed claims that the increase in mineral royalty tax for underground and open pit mines will affect the profitability of mining companies and result in capital flight.
Parliament passed the 2015 national budget which effected an increase in mineral royalty taxes from six percent to eight percent for underground mines and 20 percent for open pit mines.
Mr Yaluma accused the mining sector of allegedly wanting to "kill" the economy at the expense of making huge profits.
The minister said in an interview on Thursday that Government should not be taken for granted.
"We as Government must be careful that we are not held at ransom by anyone, especially that what we are doing is in the interest of the Zambian people," Mr Yaluma said.
Mr Yaluma said before the Patriotic Front (PF) assumed office three years ago, there was an outcry that Government was not collecting sufficient revenue from the mines.
He said the revised mineral royalty tax is just responding to that concern.
"We have introduced eight percent mineral royalty tax for underground and 20 percent for open pit mining," Mr Yaluma said.
He said any Government's survival is based on the revenue it collects in terms of taxes.
He warned that the economy will be affected if Government backtracks on the new mining tax regime.
"What we have done as Government is reasonable. Barrick Gold Corporation is saying that the mineral royalty tax will kill their business at Lumwana Copper Mine but they want to kill our economy," he charged.
Barrack Gold Corporation has announced that it will initiate procedures to suspend operations at its Lumwana Copper Mine resulting in a possible loss of 4,000 direct jobs.
Mr Yaluma wondered why Lumwana Copper Mine claims that Government will kill its business when it has not presented a scientific argument on how it will fair under the new the tax regime.
He also said Government has an open-door policy and will listen to mining companies that will bring forward figures to justify their claims to find a lasting solution.
"We are interested in seeing that the mines are making profits and Government growing its economy. All I am saying is that we are open for discussion, we cannot stop this tax regime," Mr Yaluma said.
He said he summoned Lumwana Copper Mine for a meeting because the issue at hand is a matter of survival.
"No one will drop this tax because of political reasons and we cannot go and bend for the sake of bending because there is need to protect Zambians," Mr Yaluma said
He said when PF came into power, mineral royalty tax was increased from three to six percent and the mines still made a lot of profits.
He said it will be negligent of the government to remove new mineral royalty tax.
[Read 39 times, 1 reads today]