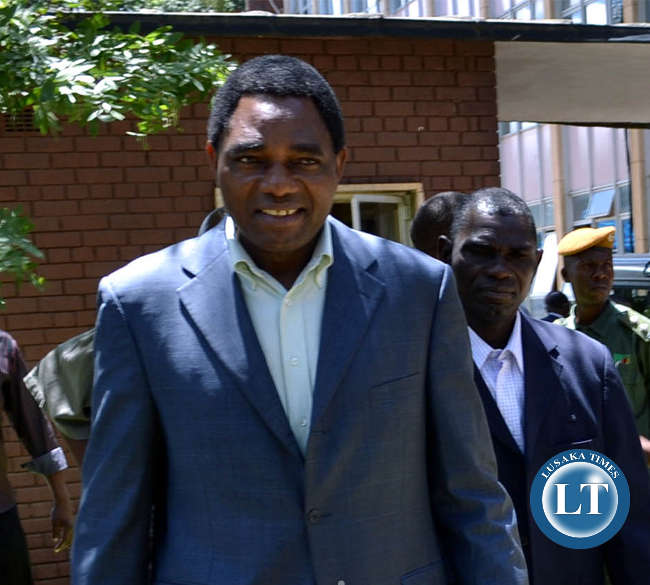 Presidential candidate Hakainde Hichilema has declared that the UPND has already won the January 20 2015 presidential election.
Mr Hichilema made the declaration last evening when he featured on a special Hot Seat radio programme on Hot FM broadcast from his Kabulonga residence.
He said God has allowed the UPND to win this month's election because he does not want Zambians to continue going through misery.
Asked whether he is ready to concede defeat in an event he loses the election, Mr Hichilema said there is no way the UPND would lose the election.
"The people of Zambia have decided that they don't what pangas. This ZNBC business of covering PF only will not sway the minds of Zambians. I have just arrived in Lusaka and the massive emotional support. We have won this election, someone is trying to fidget, we know that but we have won this election already no one should steal this election from the people of Zambia because people are tired," Mr Hichilema stated.
He added, "Zambians have registered a decision already and it doesn't matter what the PF does. God's will is going to prevail. The people's verdict is done. There is nothing that the PF can do in the remaining 12 days."
Mr Hichilema said Zambians want clean water, jobs, peace and stability, affordable fuel and mealie meal adding that those things cannot be found in PF.
'Why should the PF be allowed to steal the election? Why should the PF continue mismanaging this country? God allows leadership to continue, God has disallowed PF to continue even for five years, he has given Zambians a break to say my children, you have suffered enough. Let PF go after three years, it is God who has decided and who is that individual questioning God's work? You think Zambians want the PF to continue with the pangas,' he questioned.
The UPND leader stated that the first measure is that very Zambian must ensure that the PF does not rig this election.
"The PF has lost this election, so every Zambian must protect the vote. Three years of PF looks like 15 years of anguish. We are putting in some anti-rigging measures and I won't say much about it now."
Meanwhile, Mr Hichilema has described Bishop Chomba as a rogue Bishop who should not be taken seriously.
"Of course you have heard about a lot of things being said about us, for example, am not a freemason and what is happening is that people are getting annoyed that fellow citizens can make blatant accusations about an individual who is innocent,' Mr Hichilema said.
He added, "It is nonsensical. People can go to such lengths to decampaign someone. My faith is Adventist, am SDA and everybody knows and my President , the President of SDA Pastor Dr Akombwa came out and set the record straight and answered on my behalf and on behalf of the Church. This has annoyed a lot of people. This Chomba guy is a malicious guy, I have never seen such a malicious individual like that."
The UPND leader continued, "I have just arrived in Lusaka but am told that he is now claiming in the court papers that he knows where I pray, he is talking about Cha Cha Cha road, I have no idea where that is. He is a cheap guy, can you see how cheap people behave? He is a completely cheap individual and he calls himself Bishop, I don't know Bishop of what Church."
"He is just annoying the people, the behaviour of the PF and their supporters like this rogue Bishop is just annoying the people and people now want to get rid of this party which has brought so much misery. Our campaign is issue based and not listening to fake Bishops like Chomba, that individual is just a scam, a cheat."