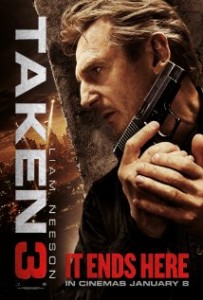 Ex-government operative Bryan Mills is accused of a ruthless murder he never committed or witnessed. As he is tracked and pursued, Mills brings out his particular set of skills to find the true killer and clear his name.
PROS
The inclusion of Academy Award winning actor ,Forest Whitaker, to the cast was a great choice.
Exciting and well executed action scenes
Fresh story line
FAVORITE QUOTES
Franck Dotzler: If you go down this road the LAPD, the FBI, the CIA there all gonna come after you they'll find you and they'll stop you.
Bryan Mills: Good luck.
CONCLUSION
The first two "Taken" movies were excellent , when i heard they were planning a third i was skeptical . I thought they would repeat the same story . Luckily i was wrong . "Taken 3" has a different story line than the first two movies . It feels fresh and original. It is unpredictable and has exciting twists and turns . It's about as pulse-pounding as your favorite roller coaster would be on the third go-round. The action and chase sequences are more rugged in this one . Whitaker adds a fresh dynamic to the trilogy .
It is a must see movie , which you will enjoy even if you haven't seen the first two .
Fingers cross ,there will be "Taken 4" .
RATING 
5 out of 5

BY KAPA187