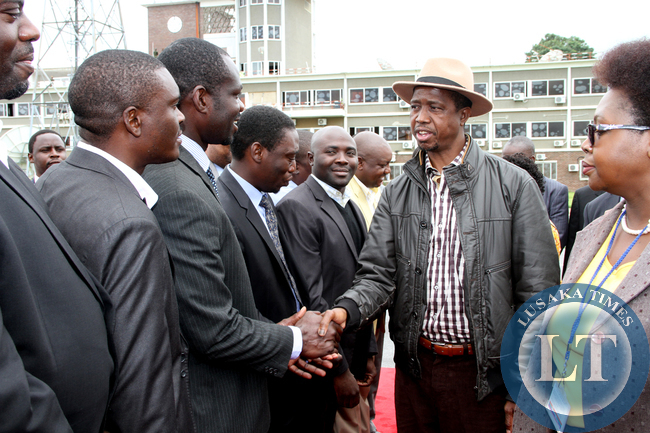 President Edgar Lungu has left for Mfuwe in Eastern Province for a seven-day retreat that will see him complete constituting his full cabinet.
The Presidential challenger carrying President Lungu left Kenneth Kaunda International Airport at 12:00 hours and he is accompanied by First Lady Esther Lungu, Patriotic Front Secretary General Davies Chama, Justice Minister Ngosa Simbyakula and his Special Aid for Press and Public relation Amos Chanda.
Vice President Inonge Wina, Finance Minister Alexander Chikwanda, Home Affairs Minister Davies Mwila, State House Deputy Minister Mulenga Sata and Senior Government and party officials were at hand to see off the head of state.
Speaking to journalists before departure, President Lungu clarified that he has not gone for a holiday but a retreat so that he can sit down with his officials to plan for the future.
He said during his retreat he will also consider completing appointing his cabinet and make structural changes to his government.
Mr Lungu said he was not going on honeymoon but will still be working while on retreat in Mfuwe as agitated for by some sections of society.
The Head of State has also disclosed that he will in few days while on his retreat travel to Zimbabwe to meet the Southern African Development Community (SADC) Chairperson Robert Mugabe and later go to Angola to discuss ways to enhancing trade between the two countries.
Mr Lungu noted that trade between Angola and Zambia could be enhanced if the railway line connecting the two countries is improved.
He said he will travel to that country to among other things look at how transportation of goods via the roads and rail could be improved in order to increase trade between the two countries.
He said his trips to other countries like the recent one he took to Addis Ababa in Ethiopia are in the interest of the people of Zambia and not for his personal gain.
He said Zambia's international profile in the last three years has gone down hence the need to look at ways of attracting investors and exchange ideas with leaders of others countries in order to up the country's profile.
He said his visits will see other foreign heads of state visit Zambia to share ideas and cement international relations.