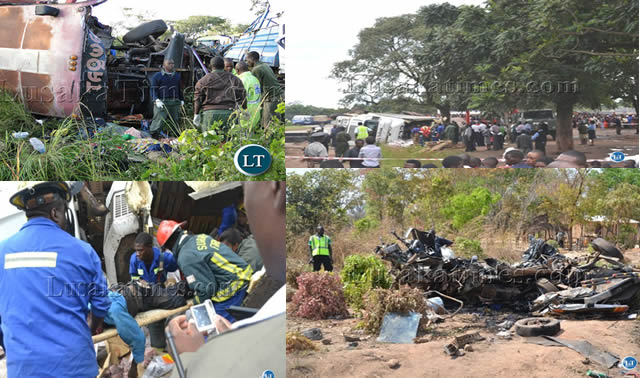 The Zambia Road Safety Trust (ZRST) has disclosed that 30 people die every week on Zambian roads.
Trust Chairperson Daniel Mwamba disclosed this today when his organisation donated an assortment of medicated soaps to Lusaka's University Teaching Hospital (UTH) Surgical Ward
Mr Mwamba said it is unfortunate that on average, one person dies every six hours on Zambian roads resulting in 30 people dying on a weekly basis.
He pointed out that road safety is a shared responsibility which must be taken seriously by all stakeholders.
Mr Mwamba has since urged road users to act responsibly by adhering to traffic regulations in order to reduce road carnage.
He said avoiding alcohol and drug abuse, over speeding, driver distraction and fatigue are cardinal in reducing road traffic accidents.
And UTH Assistant Public Relations Officer Natalie Mashikolo thanked the Road Safety Trust for the donations as they will help the accidents victims during their recuperation.
On February 7, 2013, Zambia experienced the worst road accident between Kabwe and Chibombo which resulted in the death of 51 people.
The ZRST with the victims and relatives of victims have since dedicated the day to remember all people killed or injured on the Zambian roads.