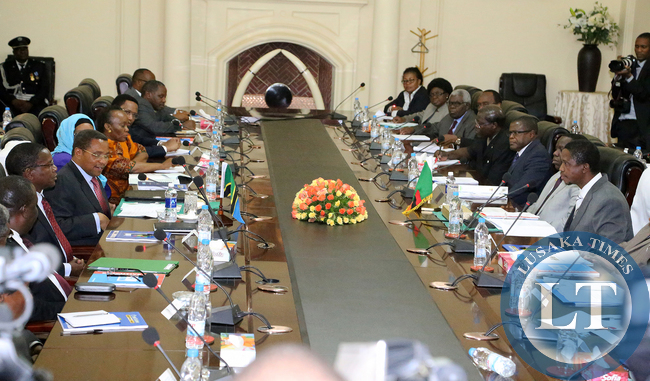 President Edgar Lungu today held talks with Tanzanian President Jakaya Kikwete on various issues that concerned the welfare of the two nations.
Among the key issues discussed during the meeting were the plans to revamp TAZARA and TAZAMA pipelines as well as to find a better way of clearing goods crossing between the Tunduma /Nakonde border.
Speaking during the meeting President Lungu noted that TAZARA was a mammoth investment that was undertaken with the assistance of the Chinese government.
President Lungu stated that TAZARA remains the most significant symbol of the cherished tripartite relations between Zambia, Tanzania and China.
Mr Lungu said through the Zambia-Tanzania Joint Permanent Commission of Cooperation which was established via a bilateral agreement, the two countries have achieved cooperation in various key areas such as Agriculture, Transport and Communication, Energy and Immigration among others.
The President expressed gratitude to his counterpart for accepting an invitation to Zambia.
And President Kikwete hailed the bilateral relationship Zambia and Tanzania has enjoyed which was founded by the two countries founding Presidents Kenneth Kaunda and Julius Nyerere.
President Kikwete noted that the two countries have a lot in common which needs to be built upon.
He said TAZARA and the movement of oil should be revamped as they benefit the two countries.
He further reaffirmed his commitment to the bilateral relationship that exists between Zambia and Tanzania.
Mr Kikwete assured President Lungu that he will stand ready to offer support when called upon.
The meeting was attended by Zambia's Ministers of Commerce, transport, Energy, Justice and Foreign Affairs.
The Tanzanian head of state is in Zambia for a two day state visit at the invitation of President Lungu.
Earlier today, Visiting Tanzanian President Jakaya Kikwete today visited and laid wreaths on the graves of late Presidents Levy Mwanawasa, Michael Sata and late former President Fredrick Chiluba at the Embassy Park in Lusaka.
Dr. Kikwete was accompanied by his wife Salma, Lusaka Province Minister Obvious Mwaliteta, Justice Minister Ngosa Simbyakula and Zambia's High Commissioner to Tanzania Judith Kapijimpanga when he laid wreaths on the three graves.
The Tanzanian President later signed in the visitors' book at Embassy Park shortly after laying wreaths.
In his message of condolences on the death of three presidents, Dr. Kikwete said he felt sad but also expressed happiness to have had an opportunity to visit the burial site of the great sons of Zambia.
Dr. Kikwete described the three late presidents as great leaders for both Zambia and the entire Southern African Development Community (SADC) region.
The Tanzanian leader wished the three late presidents to rest in eternal peace and that their legacies would live on forever.