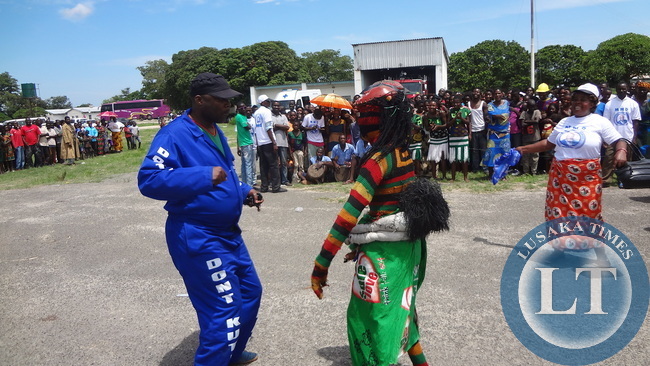 OFFICE OF THE MMD NATIONAL YOUTH SECRETARY
Contact: Bowman Lusambo
National Youth Secretary
For Immediate Release
March 19, 2015
GOVERNMENT SHOULD RESTRICT CERTAIN BUSINESSES TO LOCAL PEOPLE
As MMD youths, we have just completed a month long study of the business ownership landscape in four major cities of Zambia namely, Lusaka, Kitwe, Ndola and Livingstone.
We embarked on this study to help establish the number of young Zambians engaged in business, their nature of such businesses and the easy of starting a business as a young Zambian.
Our study was prompted by the ever increasing rate of joblessness among youths in Zambia and the search for sustainability measures to arrest the depressing situation.
In snap surveys we conducted, we discovered that out of 10 youths aged between 21-30 years, only one is gainful employment. We also found that out of every 10 youths, two have attempted to start a business but failed.
Majority of those youths cited the lack of adequate financing and a hostile business environment as reasons for their folding up.
As progressive youths, we therefore wish to advise the PF Government to take pragmatic steps to addressing the joblessness afflicting thousands of young Zambians.
The situation can no longer be said to be a time bomb because it has already exploded. Government needs to urgently tackle this situation before what is remaining of our future is totally ruined.
We therefore wish to submit to Government that restricting foreign investors from participating in certain lines of businesses will greatly help free up the much needed business space and level the playing field.
Most of these foreign investors especially from China, India, Palestine, Lebanon and Pakistan have crowded the business space and shoved out enterprising young Zambians into destitution.
We believe time has now come for the PF Government to pass a Statutory Instrument out rightly banning foreigners from engaging in businesses that could ordinarily be conducted by local Zambians.
We ask why in 2015, 51 years after our political independence, we could allow Lebanese to come into our markets and sell Nshima, make blocks and set up car washing outlets?
We fail to find the answers except speculate that it could be our own aloofness that has allowed these bogus foreign investors to come and set up businesses that belong to Zambians.
Going forward, we wish to advise the Lungu administration to contract trade and craft institutions such as NORTEC in Ndola to start manufacturing and assembling equipment such as block making machines which could be loaned to selected youths groups in all the ten provinces.
These youth groups will be offered preferential bidding for all government construction projects as a way of guaranteeing the flow of business.
This facility will operate on a revolving fund basis and we believe that youths engaged under this scheme would be sufficiently empowered in a space of 24 months and would be willing to branch out and set up individual businesses.
The same model could then be replicated in other key sectors such as agriculture and tourism with the aim of uprooting joblessness from the youths in Zambia.
Zambia has a number of young people that have broken ranks and defied all odds and are today successful entrepreneurs worth of note.
Worth mentioning are the likes of business magnate Steven Mikalile Mulenga of Mika Group of Companies, Andrew Chola of Fairview College of Education and Stanley Mwangumku of Kabwe.
These and a few other successful young entrepreneurs need lots of state support for them to even grow their respective business empires and continue inspiring young Zambians to venture into business.
We wish to reiterate that tackling unemployment would require urgent and radical steps and out-of-the-box type of ideas. Conventional thought processes to tackling the issue has obviously failed.
As MMD youths, we wish to offer ourselves to this national cause of finding sound answers to tackling unemployment.
[Read 56 times, 1 reads today]