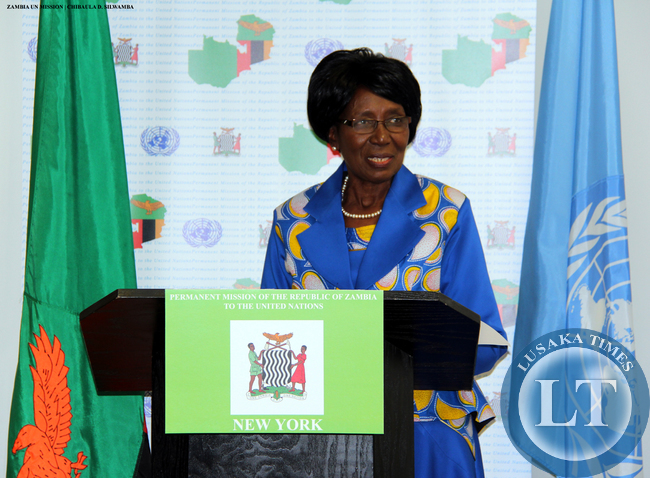 Vice-President Inonge Wina says government will consider constituting a medical board that will look into the health of presidents in the country.
Ms. Wina, who is also PF Nalolo Member of Parliament (MP), said a medical board will be the right one to authorise and advise government on any illness of the head of state.
She said this in parliament today when she was responding to a question raised by PF Kamfinsa MP Moses Chishimba on what government was doing to ensure that the health of President Lungu is protected.
The Vice President said the practice has been that the heads of state chose their own medical teams to take care of their health.
Ms. Wina told parliament that other countries in the world have set such medical boards to look and protect the health of their presidents hence the need for Zambia to also establish one.
"The practice has been that the Head of State chooses his own medical team to take care of his health but as government, we are now going to institutionalise a medical board to look, take care and protect the health of our President," Ms. Wina said.
She disclosed that to avoid speculations from members of the general public, the Minister of Health Joseph Kasonde would soon issue a ministerial statement when the medical board will be established.
Ms. Wina stated that government wants to be transparent on the health of the President but noted that some statements on this subject were in bad taste and injurious the integrity of the Head of State.
On the fuel situation, the Vice President said subsidizing fuel in Zambia would be difficulty because the country landlocked.
Ms. Wina maintained that government will not subsidize fuel and other petroleum commodities.
On the retirement age, Ms. Wina said the issue has been misunderstood by the Zambian people especially civil servants.
She said the Statutory Instrument (SI) signed last year to increase the retirement age from 55 to 65 years will soon be amended to make it relevant to the Zambian labour industry.
She said cabinet will meet to amend the SI in a bid to reduce the retirement age and possibly keep it at 55 years.
And Ms. Wina has clarified that the one-day closure of Nakonde border was to avoid the clashes in neighbouring Tanzania from spreading into Zambia.
She told parliament that the closure was a temporal measure because there was a riot between two factions in that country.
On Monday, this week, Nakonde border in Muchinga Province was closed after confusion erupted at Tunduma in Tanzania between supporters of the ruling Chama Cha Mapinduzi and the opposition Chama cha Demokrasia na Maendeleo (Chadema) who fought running battles over a disputed piece of land.