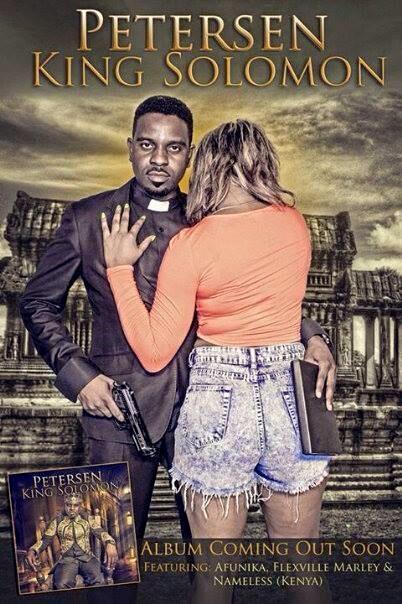 Petersen Zagaze is set to release his fourth studio album in a few weeks, which will be titled King Solomon.
In sharing his album concept, Petersen said it will focus on social, political and religious issues affecting society.
On a demo album sleeve for the upcoming album, Petersen is dressed as a man of the cloth holding the Bible in one hand, and a gun in the other, while simultaneously also holding a woman.
Petersen said about the concept: "The gun has the power to control nations and the economy. It has made many gain power and wealth and has ended lives."
He said people generally understood that money brings power to humanity as well.
As a king or leader, Petersen puts forward that one controls money and guns. At the same time he adds that a woman also makes manyprosper or fall.
"The Bible is used in different situations for the gaining of money, power or women," Petersen stated further.
He said his attire represented a man dressed as a wolf in sheep's skin, while his title is Honourable Apostle Petersen Zagaze.
The artiste known for his well thought and socially conscious songs, is an avid song writer that has shared the musical stage with the likes of General Ozzy, JK and Danny Kaya.
Petersen became a household name in 2005 following the release of his debut single, Munyaule that featured General Ozzy.
Following the success of his first hit, he then titled his first album after it, releasing it in December, 2005.
The album included hits like Oh No, Body Girl, Promise and Wedding Day.
In 2007, he released his second album Bobojani which featured hits such as Anyandule and Musiye Atopinge. Much later in 2012, he produced his third and widely acclaimed album, Job 13:13.
Petersen's, fourth album, King Solomon, will feature Afunika, Flexville Marley and Nameless from Kenya.
(Dailymail )
BY KAPA187
[Read 202 times, 1 reads today]