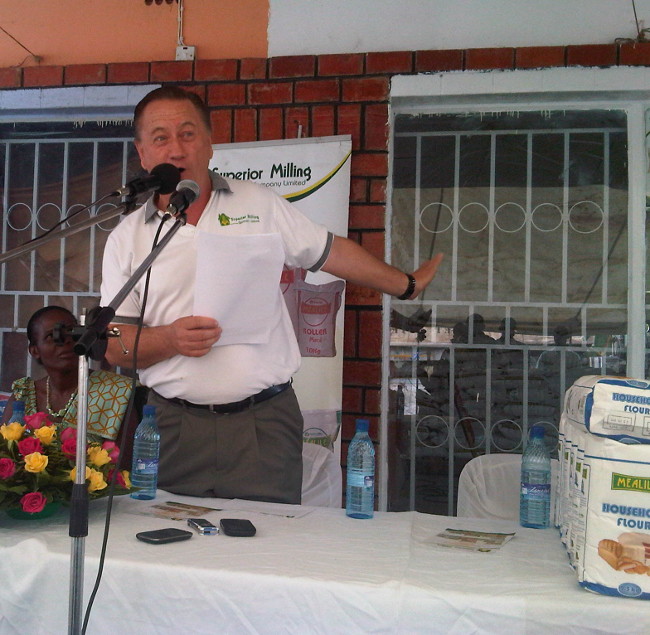 THE plan by the Government to set up maize milling plants in all 10 provinces of Zambia is a step in the right direction as it provides an opportunity for millers to go into Public Private Partnerships (PPPs) with the State, former Millers Association of Zambia (MAZ) chairperson Peter Cottan has said.
Mr Cottan, who is Superior Milling Company Limited managing director and an active member of MAZ, said the process of setting up maize milling plants was a tedious undertaking and hence there was need for millers to take advantage of Government pronouncements to venture into PPPs.
He said it was unsustainable and a challenging task for the Government to start running milling companies as it role was to provide a favorable environment for the private sector to do their business.
Mr Cottan was speaking yesterday in Kazungula when his company opened his 41st depot in the border town.
During the same launch, Superior Milling Company Limited empowered 10 local women in Kazungula with 10 kg bag of floor each to start running their businesses from the same product.
"A lot of people thought millers will be against the move by the Government but some members of MAZ members are already taking up that opportunity.
"The private sector companies are now setting up milling plants in Chipata, Chingola, Solwezi and other major towns with a hope of going into PPP with the Government," he said.
Mr Cottan said setting up milling plants by the Government would only be sustainable if it was done through the PPP.
"There is no way Government can start doing the business of running milling companies as this role is for the private sector.
"There will be need for partnership with the private sector in this new arrangement. In my view, the role of Government would be to ensure that millers are supplied with subsidized maize from farmers," Mr Cottan said.
He also said his company would work with retailers to ensure that the
reduction in mealie meal prices benefited customers.
"When we reduce mealie meal prices, all other retailers have to follow suit. If they don't reduce, competition will come into play as consumers will have to choose and buy from where they want," he said.
Mr Cottan also asked the Government to speed up the process of releasing subsdised maize to millers from the Food Reserve Agency (FRA) to stimulate further reductions in mealie meal prices.
On Wednesday, Superior Milling Company Limited reduced the price of both breakfast and roller meal by K5 and K7 respectively for Kazungula in response to Government's recent pronouncement to offload subsidised maize to millers.
The reduction only applies to Kazungula only and does not apply to other parts of the country as the company is waiting to access subsdised maize from the Food Reserve Agency (FRA) for it to make further reductions in the prices of the commodity across the country.
Mr Cottan said his company was the first miller in the country to reduce mealie meal prices in rural areas by selling a 25 kilogram (kg) bag of breakfast mealie meal at K63 per bag from K68 and a 25 kg bag of roller meal at K44 from K51 in response to Government's pronouncements.
[Read 42 times, 1 reads today]