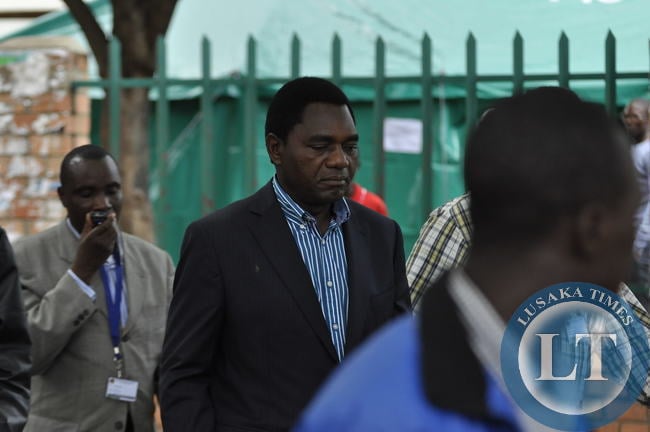 UPND president Hakainde Hichilema says he is game for 2016 general elections and those thinking or suggesting that he must quit politics and leave the party leadership for someone else should think twice as they are just wasting their time.
Mr. Hichilema said he would not quit politics anytime soon as he was preparing for next year's general elections which he said he would contest on the UPND ticket.
When asked whether he was thinking of stepping down after losing the presidential elections four times, Mr. Hichilema said he would not quit at this time.
He said this was not the right time for him to step down as UPND president when a general election was on the horizon.
"I would definitely step down some day but not now. Not this time around. It's up to the party to decide when I should step down. But for now I am contesting the 2016 general elections and possibly win and form government for us to improve the livelihood of our people. For us the focus is to improve the economy of the country in order for it to attract genuine foreign investment," he said.
Mr. Hichilema said Zambians needed a leadership which was committed to addressing high levels of poverty and unemployment, adding that what the Patriotic Front was boasting about of having created was nothing but slavery.
"You should understand that Zambians need jobs and not only jobs like sweeping the roads and digging trenches which the PF is boasting of having created. This is shameful indeed 50 years after independence. Zambians need decent and pensionable jobs. Zambians need food and not only food but balanced and nutritional value-based food for good health," said Mr. Hichilema.
The opposition leader said his party had a programme for the country which would help end the high levels of poverty by creating manufacturing industries which would in turn employ many young Zambians.
Mr. Hichilema said the UPND was the only choice for the people if Zambia was to face a new economic outlook.
"Our policies in agriculture are the best because we shall not only subsidise farming produce and encourage people to venture into this sector, we shall also provide both local and international markets for the produce of our people to make more money for themselves. We shall also ensure that we empower our people with soft loans which will help them set up viable businesses," he said.
Mr Hichilema said the UPND would run a cost effective government by reducing a number of ministries and create and provide a safe environment for both local and foreign investment.
Mr. Hichilema said he was not in politics for selfish dealings but to help Zambians realise their full potential to participate in national development and help improve the economic status of the nation starting from grassroots level.
"We are not in politics for selfish benefit. We want to serve the people of Zambia. There is too much poverty in this country which needs a level-headed mind to resolve. It's time Zambia and Africa started electing leaders who go to government to serve and not to earn an income," he said.