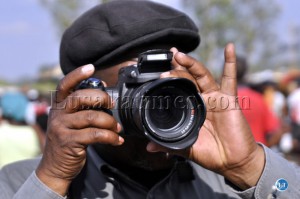 HUMAN Rights activist Brebner Changala has disclosed that suspended Director of Public Prosecution (DPP) Mutembo Nchito is trying to get sympathy from him and that he pleaded with him to avoid the tribunal.
"I am surprised with the amount of desperation that Mr. Mutembo Nchito is exhibiting over his impending Tribunal Hearing. The last few days have been characterized by Mr. Nchito and Mr. M'membe of the Post Newspapers Limited trying all sorts of tactics to try and avoid the Tribunal. These range from trying to get sympathy from me, attempting to scandalize me, having surrogates try to intimidate me and even secretly setting up meetings to plead with me," he said.
He added that, "As everybody who is aware of my recorded interview that has been published by the Post, and as to how different it is from the headline banners in the Post, will wish to know that there is a serious conspiracy behind the scene to discredit and distort the truth surrounding the Tribunal. For example the recording does not state the questions and show the spirit of the interview but instead it starts in the middle of one of my answers."
Mr Changala in statement released in Lusaka yesterday stated;
On Friday 17th April 2015 in an attempt to get sympathy from me Mr. Nchito approached me and started making small talk to me at the Tribunal. This was a clear attempt to get sympathy from me.
I want to clearly state that I feel nothing but the utmost sympathy for Mr. Nchito in view of the situation that he has created for himself and his associates. The sympathy I feel for him does not take away from the fact that Mr. Nchito has to face up to the charges made against him and it is only after having the Tribunal clear his name that he will ever be able to walk the streets of Zambia with his head held high.
There was a change of tact and on the same day I got a lot of verbal abuse from Mr. Tayali at the Tribunal saying the charges were going nowhere and I was wasting time. I believe this is the same thing Mr. Tayali said about the charges he is facing in the subordinate court.
I did not answer Mr. Tayali as he seemed to be extremely emotional about the whole thing and I could not understand why he was taking the plight of the DPP so personally as if his very future depended on Mr. Nchito's fate.
The next change of tact was through the Post Newspaper insisting on having an interview on Wednesday 15th April 2015 which they kept and analyzed as to how best to present it to suit their storyline. It took them a full five days to decide how to package and present the interview. In the end they attempted to use it to deflect attention from the charges that Mr. Nchito is supposed to answer and they focused on allegations which do not form any part of the six charges he is supposed to answer. They also attempted to bring President Lungu into the picture and made up a conspiracy plot which I am not privy to.
On April 2015 I realised just how desperate Mr. Nchito was when he requested for a clandestine meeting with me at which his aim was to plead to me to save him.
Mr. Nchito requested that the meeting be at Inter Continental Hotel and this made me mistakenly believe that he wanted an open meeting in a public place. I got to Intercontinental in good time by 14:00 hours to wait for Mr. Nchito and decided to do some work in the business bureau as I waited.
Sometime after 14:00 hours I received a call from Mr. Nchito that he was in the Inter Continental car park and I should go outside and meet him there. As I had already gone that far I decided to go outside and meet him in the car park.
To my surprise Mr. Nchito was not dressed in an easily recognizable fashion, or in a suit as he usually is, but was in a tracksuit. He told me that he did not want us to talk in the car park but that I should get in his car and we should drive around as we spoke. It was clear that he wanted this meeting to be as secretive as possible.
Once inside his car he started pleading his case to me and telling me that he had acted in certain cases on instructions and the actions being attributed to him were not his own decisions. He talked about the nolles, the debts of Zambian Airways, what was owed to Finance Bank Limited, his relationship with Fred M'membe and many other things.
The trip took close to three hours and he passionately tried to plead his case to me. I was surprised as to why he wanted to plead the case to me instead of the Tribunal in order to clear his name.
The reason why he was pleading his case to me became clear after he handed me a dossier which he stated explained away all the charges. He also showed me, but did not leave me with, copies of documents and letters he said would help his case.
After doing this he then hit me with a bombshell. Mr. Nchito pleaded that I write a letter to the President withdrawing my letters seeking for a tribunal to be set up and that I should state that it had now come to my knowledge that all the charges against him were unfounded.
As I was frankly very surprised by this plea from Mr. Nchito I told him that I could not do such a thing without talking to my lawyers. At this point he pleaded with me not to talk to my lawyers or tell them about the meeting and drive we were having. This meeting was strictly to remain between Mr. Nchito and myself.
I decided I could not write the letter the DPP was pleading for because this would be subverting the work of the Tribunal. It is for the Tribunal to investigate the allegations and make their findings and not for me to supplant their authority. I took the view that Mr. Nchito should present his case to the Tribunal and not to me who is a mere witness in the proceedings.
Soon after this clandestine meeting I got a press querry from the Post Newspaper where similar issues to the discussion I earlier had with the DPP were canvassed.
Later I became disturbed that the DPP had approached me knowing I was a witness and also knowing that I had legal representation. I remembered the DPP in one of the cases he was handling complaining that there was a chance that the accused person would interfere with witnesses. I am still asking myself whether the secret approached request from the DPP did not amount to interfering with a witness. I also wonder if other witnesses have also been taken on a similar drive around Lusaka with the same motive and intent.
I now understand why he was insistent that the issue of the request for a letter should not be told to my lawyers. I wish to make it clear that the issues that the Tribunal are to look into are not dependent on my view over the same. Many ordinary Zambians, and those in the legal profession, feel that these are legitimate issues that the Tribunal
should probe. Mr. Nchito should therefore not hope that the Tribunal will go away by either threatening, scandalising or even asking me to write a letter of "exoneration" of the DPP. The only body at this stage that can exonerate him is the Tribunal.
If anyone doubts my recollection of what was said and requested by the DPP I would ask them to find out from Mr. Nchito or indeed ask him to produce the recording of our drive round Lusaka