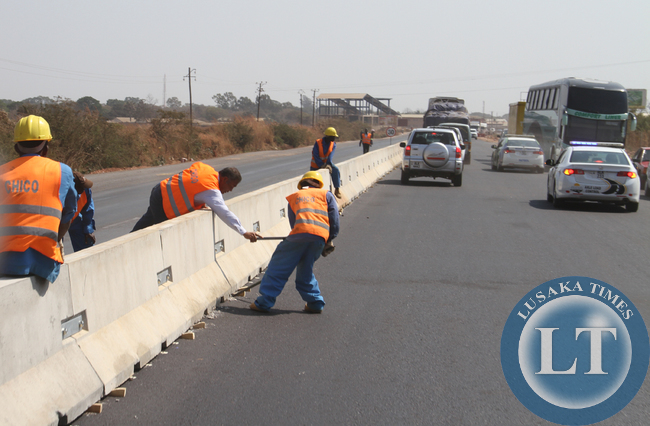 The Zambian Road Safety Trust (ZRST) says it is concerned with the safety of road users and workers around road construction zones.
ZRST made the concern in Lusaka yesterday in a statement made available to ZANIS through its Chairman Daniel Mwamba.
Mr Mwamba said the increased infrastructure spending and funding for road construction by the government has led to a significant increase in the number of road construction projects around Zambia.
He said this in reference to the accident that occurred on Wednesday, 22nd April, 2015, where three foreign visiting doctors from German and a local TV journalist died in a road accident when their vehicle collided with a construction vehicle in Southern Province.
Mr Mwamba explained that German Doctors Franz Mathews, 67, Wolfgufkart Bissbeif, 64, Hans Boehringer, 55 and journalist Priscilla Phakati were heading to a rural health center where they were scheduled to attend and help the local people with dental problems when they met their fate.
He said the accident should be a wake-up call that road construction zones and construction vehicles present a deadly hazard for motorists.
Mr Mwamba said ZRST is also deeply concerned about lack of adequate safety on construction works going on along Chilimbulu and Burma Roads in Lusaka by the Chinese contractors and urges Road Development Agency (RDA) to make its own assessment before other people are injured.
He further said the long stretches of under construction and widespread traffic congestion are a recipe for extreme driving hazards for motorists and road workers alike.
Mr Mwamba said the Trust is calling on RDA to implement sufficient safety measures and initiatives in all construction zones by ensuring that construction or maintenance zones have road signs to warn motorists that road work is being done.
Mr Mwamba further said RDA should also implement tough penalties on constructors who do not provide enough safety around construction sites.
"Any incident is one too many, appropriate safety measures are absolutely imperative around all construction or maintenance zones. When someone is hurt or killed, families are impacted. We cannot afford to lose more lives. Road death is the number one killer in Zambia for all health and productive people, "Mr Mwamba said.
[Read 106 times, 1 reads today]