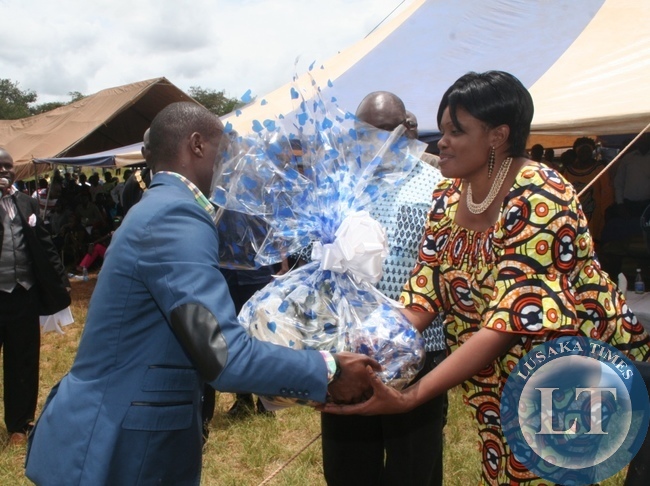 GOVERNMENT has charged that structures built on illegal land will be demolished in order to curb lawlessness.
Land and natural resources minister Christabel Ngimbu said Government will tolerate people acquiring land illegally.
"We shall not allow people to get land illegally. Any structure that is built on illegal land will be demolished," she said.
Recently, over 30 houses were demolished in Chinika industrial area in Lusaka after an investor, Tesno General Dealers, executed a court order to remove them from the area and demolish their structures.
Meanwhile, the Taskforce on Illegal Land Allocations and Acquisition is investigating about 173 complaints regarding illegal land activities received from across the country, according to a statement released by the Task Force spokesperson Moses Suwali.
Taskforce Chairperson Colonel Panji Kaunda said that of the 173 complaints, 50 are from Lusaka while 123 have been drawn from various parts of the country.
Col. Kaunda who is also Home Affairs Deputy Minister stated that the Taskforce will not hesitate to demolish structures built on land illegally acquired.
"No one is authorized to buy or sale land which is illegally acquired and anyone found wanting will be prosecuted," said Col Kaunda.
He has warned members of the society to refrain from buying or selling land illegally acquired other than from established authorities such as Ministry of Lands or the local Authorities.
Col. Kaunda said that illegal acquisition of land as treated as stolen property and anyone who buys or sales illegal land will be guilty of stolen property and prosecuted by the courts of law.
Pieces of Land under investigation include Illegal structures built on the ZAWA buffer zone in new Kasama, Obama area, NISR land in Silverest Area and several properties invaded in Lilayi area among others.
Meanwhile, Col. Kaunda has revealed that his Committee has plans to decentralize the Taskforce on Illegal Land Allocation into other province in the country.
He said that the idea of decentralizing the Taskforce will greatly help to curb illegal land activities across the country as people would be easily reached out.
Col. Kaunda revealed that the decentralization process would be embarked on when funds are available.
The Taskforce on Illegal Land Allocations and Acquisitions was launched on 23 July 2014 with the mandate of curbing all illegal land activities that have rocked the country.
The Taskforce whose other objective is to enforce the legality of authenticated land ownership comprises three mother ministries which include the Ministry of Home Affairs, Ministry of Lands and natural Resources and the Ministry of Local Government and Housing.