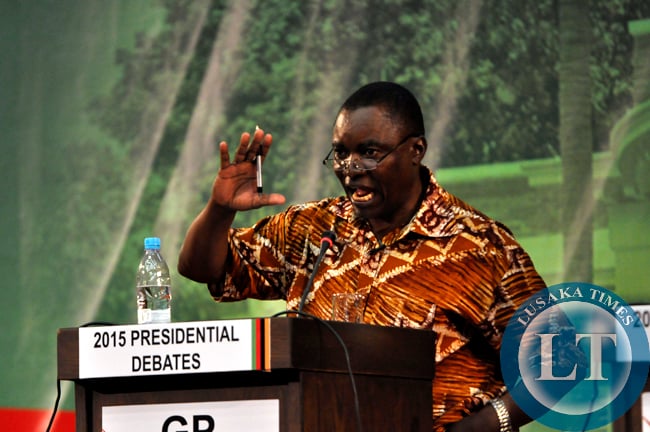 GREEN Party President Peter Sinkamba has provided a lawyer to represent a 58-year-old man of Sinazongwe who was dragged to Choma Magistrate's Court for cultivation of marijuana which he claims to treat epileptic patients and exorcise bad spirits.
Maxon Siansimba, a farmer of Bulozya Village is charged with unlawful cultivation of psychotropic substances. It is alleged that on May 24, this year in Sinazongwe, he unlawfully cultivated 15.1 kilogrammes of cannabis plants from which marijuana can be extracted.
When the matter came up for plea before Chief Resident Magistrate Willie Sinyangwe on Friday last week, Siansimba admitted the charge but he was not being represented by a lawyer.
He told the court "I admit the charge. I smoke the marijuana. I also use it to protect people from epilepsy. I also administer it on infants to protect them from bad spirits".
When asked if he had lawful authority to administer the drug, Siansimba replied in the negative and he appeared yesterday for written facts Mr Sinyangwe.
Legal counsel Clement Tafeni of Kuta Chambers Legal Practitioners who represented Siansimba in the matter, made an application.
"We would to charge the plea to not guilty on the basis that the accused has been charged that he was cultivating psychotropic substances and he told the court that he was cultivating the plant to treat epileptic patients," Mr Tafeni said.
He stated that Siansimba is charged under Section 9 of the Narcotic Drugs and Psychotropic Act, as amended by Act No. 13 of 1994 which among others, provides that no person shall be guilty of the offence under this section if the plant is cultivated for purposes of medicine.
But DEC public prosecutor Francis Mphanza objected to the application saying he was not sure whether the submission was to change the plea or submit that his client was not guilty.
The court granted the application and Mr Tafeni applied for Siansimba's bail which the court granted in the sum of K10, 000 in his own recognisance with working sureties. Trail was set for August 14, this year.
And Mr Sinkamba said in a statement yesterday that he was in contact with Siansimba and Mr Tafeni is under instruction to apply for a constitutional bail pending determination by High Court.
"Our contention is that in the last 21 years that the Act has been in force, Government has willfully neglected to delegate an institution or authority to permit the cultivating or administration of marijuana for medicinal purposes," he said.
He said neither the ministry of Health nor DEC has been delegated with such permitting authority while some herbalists freely administer herbs for medicinal purposes to patients.