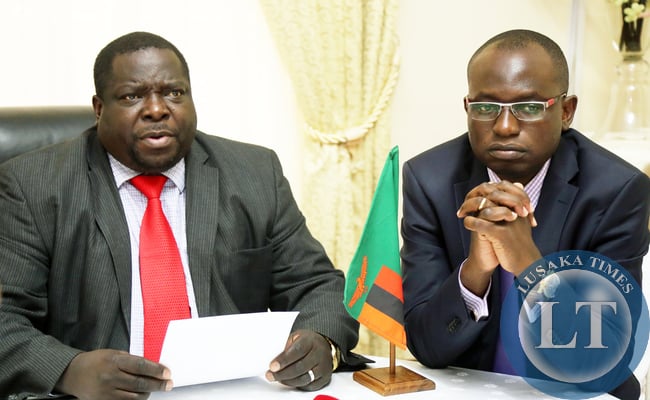 Chief Government Spokesperson Chishimba Kambwili has reaffirmed government's position that succession talks from any individual, pressure group, political party and Zambian in the country bounders on treason charge.
Mr. Kambwili, who is also Information and Broadcasting Services Minister,
warned secession advocates in any part of Zambia to desist or face the full wreath of the law.
The Information Minister, who was flanked by Special Assistant to the President for Press and Public Relations Amos Chanda, was speaking at a press briefing held State House.
Mr. Kambwili said he finds is strange for some 'secession advocates' from Southern province to convene a meeting on July 19, 2015 in Monze district.
Last week, Mr Kambwili said tribalism has got no room in the 21st century as allegedly spearheaded by some Tongas.
He also took a swipe at the privately owned Post newspaper for allegedly mis-informing the nation about the earlier statement he issued on secession.
He urged the Zambian people to dismiss and ignore secession talk because Zambia was founded on `One Zambia One Nation' motto.
Mr. Kambwili said government welcomes progressive ideas from the Zambian people on the current electricity load shedding as opposed to discussing individual (Patriotic Front Secretary General Davies Chama)
A planned meeting has been set at the weekend at Sparkles Events Centre by some Tonga political activists calling themselves 'Chuundu Chaitwa'.
Recently, President Lungu castigated individuals inciting the people of Southern Province to secede from Zambia because of remarks allegedly attributed to (PF) SG Mr. Chama.
President Lungu said it is ridiculous and unacceptable to talk of secession because the people of Southern Province can sit down and dialogue with Mr. Chama, the PF leadership and to find out a lasting solution to the problem.