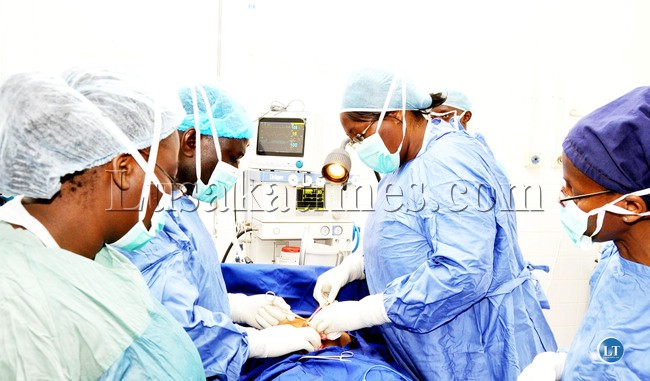 The Resident Doctors Association has disclosed that the levels of frustration among medical doctors working in the public health sector have reached alarming levels.
Association President Dr Francis Mupeta has warned that Government is sitting on a time bomb for its failure to address doctors' poor working conditions.Dr Mupeta also revealed that about 30 medical doctors are still unemployed and adding that the number of jobless doctors will rise to 130 by August 1st 2015.
He has since condemned proposals to hike salaries and allowances for Members of Parliament and other constitution office holders but neglecting to improve working conditions for doctors.
"This development where Government is now confirming that it has money to pay for an increase in MP salaries is very worrying and frustrating for doctors because as an association, we have been negotiation with Government for a long time but the answer we have been receiving is that Government doesn't have money for pay doctors," Dr Mupeta said.
Zambian doctors are the lowest paid in the region
The Association President revealed that Zambian doctors are the lowest paid in the region, only better than Malawi.He said doctors working in the public health sector are now highly demotivated and warned that the level of frustration among doctors is a time bomb.
"We are sitting on a time bomb in the manner we are treating our doctors. As I speak to you now, doctors are owed over K 7.5 million in unpaid allowances and there is no hope that this debt will be cleared any time soon and this debt will double soon," Dr Mupeta said.
Dr Mupeta disclosed that doctors serving in rural areas have not been paid their rural hardship allowances for over two years making it difficult for them to effectively perform their duties.
"We entered into a staff retention scheme with the Government to encourage more doctors to return and serve in the rural areas, this seemed to be going on well but Government now appears like they want to abrogate that agreement because they have not been paying rural hardship allowances for close to two years now." Dr Mupeta said.
And Dr Mupeta has revealed that Zambia still has about 30 doctors who are unemployed and roaming the streets.
"This number will go up in the next few days as UNZA is expected to offload its cohort and this number will go up to 130 doctors without jobs and there are no indications that Government will employ these doctors any time soon because Government says it has no money to pay the doctors," he said.
Dr Mupeta added, "These are fresh graduates so they cannot be employed in the private sector of anywhere else but the Government, so they are stranded and frustrated."
He said Government needs to address doctors concerns quickly before the situation gets out of hand.
Zambia has around 1,500 medical doctors with one of the most abnormal doctor-patient ratio in the world which now stands at 1 doctor per 12,000 patients.
According to the World Health Organisation, the normal doctor-patient ratio is 1 doctor per 5,000 patients.