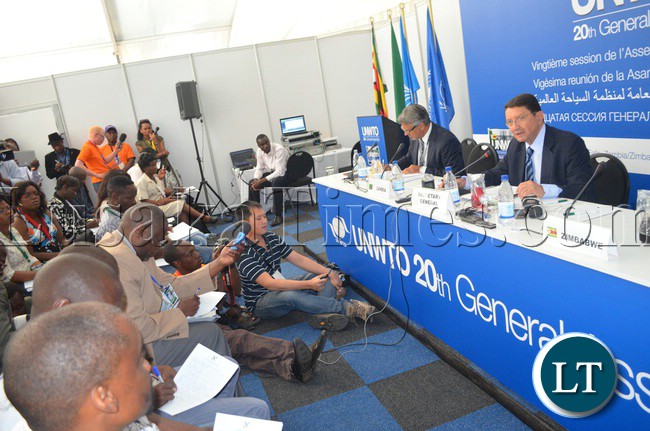 THE United Nations World Tourism Organisation (UNWTO) secretariat in Spain has challenged Zambia and Zimbabwe to quickly identify two legacy projects to be undertaken by the global tourism body in Livingstone and Victoria Falls Town.
This is in honor of the 20th session of the General Assembly which was co-hosted I Livingstone City and Victoria Falls town in August 2013.
UNWTO Secretary General Taleb Rifai said there was need for the two counties to quickly identify the two legacy project as funds were avaliable for the same.
He said this in Accra, Ghana when me met Zambia Tourism Board (ZTB) chairperson Mabel Mung'omba and ZTB Director of Marketing Mwabashike Nkulukusa on the sidelines of the just ended UNWTO Regional Conference Enhancing Brand Africa – Fostering Tourism Development.
This is according to a press statement released by the First Secretary for Tourism at the Zambian Embassy in France, Percy Ngwira, who is also UNWTO liaison officer for Zambia.
The ZTB team paid a courtesy call on the UNWTO Secretary General to thank him for having given Zambia and Zimbabwe the opportunity to co-host the 2013 General Assembly and briefed him on the benefits that Zambia is accruing from the 2013 co-hosting of the 20th Session UNWTO General Assembly.
Dr Rifai praised Zambia's commitment and support of the UNWTO objectives.
He said he was happy to be receiving good news on the historic conference that was co-hosted by the two sister countries.
Ms Mung'omba briefed the UNWTO Chief that the co-hosting of the UNWTO General Assembly has helped ZTB marketing efforts.
She said the country had gained recognition as a destination of choice for meetings and conferences as could be demonstrated by some conferences that had been held and the upcoming ones such as the African Development Bank (AfDB) meetings and African Parliamentarians conference.
In response, Dr Rifai said he was very glad to continue receiving positive feed two years after Zambia cohosted the UNWTO General Assembly in 2013.
The UNWTO chief assured the ZTB team of the organisation's commitment to supporting its members and called on the ZTB Chairperson to speed up the process of identifying one unique project that can be done in Livingstone to honour the city of Livingstone and the town of Victoria Falls as promised by the UNWTO.
He informed Ms Mung'omba that the funds were available for this project and only awaiting for Zambia and Zimbabwe to come agree on what should be done for the two towns of Livingstone and Victoria Falls.
In response Ms, Mung'omba said she wold take up the matter with the Permanent Secretary to see how to move forward.
She said the honoring of the two towns that successfully co-hosted the General Assembly would not only enhance the branded but would also go a long way in pushing forward the marketing afforest of the two sister tourist resort areas.