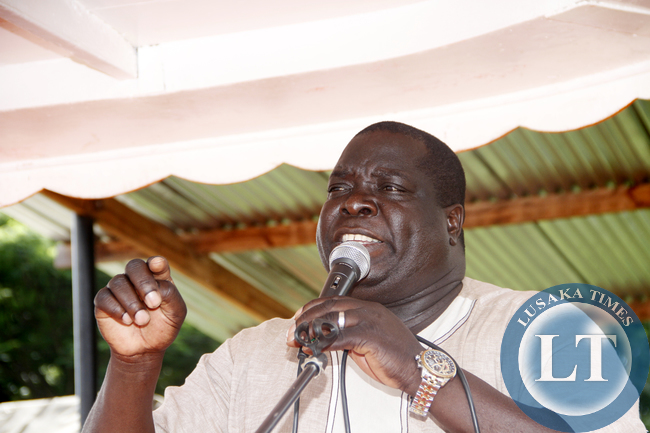 LUANSHYA Copper Mines (LCM) has confirmed that 1, 200 miners at Baluba mine have been sent on forced leave while the attendant departments have been placed on care and maintenance.
This comes a day after Government's call not to send the miners on forced leave and place Baluba mine under care and maintenance.
Information and Broadcasting Services Minister Chishimba Kambwili warned at a press briefing on Monday that Government would not condone any threats by mining companies to lay off workers.
Mr. Kambwili said there was power being imported from Namibia for mining companies to buy at a premium rate.
"We are not going to condone any mining company that will cease operations and lay off workers on the basis of power shortage, there is an option of buying power at a premium rate which is being imported from Namibia for mining companies to operate at full capacity," he said.
But LCM head of Public Relations Sydney Chileya said the Company had maintained to suspend the operations at the plant and that so far, 1, 200 miners had received letters to proceed on leave.
"Workers have started receiving their letters and I can confirm that about 1, 200 miners have so far received and are going on leave," he said.
He said the affected employees would be paid a monthly allowance in order to lessen the economic burden until the next course of action was advised.
Mr. Chileya said it was management's intention to conduct an orderly shutdown and cleanup of the operation with the controlled release of all personnel except for those who shall form part of the care and maintenance team.
He said the decision was arrived at after considering the escalating cost structure for Baluba Mine owing to the reduced copper price, coupled with the energy deficit the country was currently experiencing.
Mr. Chileya said the improvement, to acceptable and economically viable levels, of the fundamentals which had forced this action would prompt the re-opening of the Baluba Mine and its attendant departments and the recalling of all employees from leave.
In a separate interview, Mineworkers Union of Zambia (MUZ) president Nkole Chishimba said LCM did not consult the union before taking the drastic action.
Mr. Chishimba said it was saddening to note that mining firms had
continued to lay off workers without engaging in dialogue key stakeholders.
"Luanshya mine is a big mining firm , it should consult key stakeholders before taking such actions, as a union we are not involved, as it is now, we are only reading in the papers that workers are being laid off," he said.
[Read 23 times, 1 reads today]