UPND has said police officers will be sued in their individual capacities.As the UPND campaign team interacted with Solwezi residents yesterday the Police fired live gunshots to try and disrupt their scheduled meetings at Makumbi turnoff in total disregard of the electoral code of conduct. However UPND supporters defied the police and still attended the meeting in numbers despite the intimidation.
UPND president Hakainde Hichilema said these are the kinds of provocative activities that Zambians should not tolerate.
This morning the UPND were informed by police officers led by Mumbuna that their scheduled meetings with Vice president Geoffrey Bwalya Mwamba (GBM)have all been cancelled and that they must at all costs leave Solwezi or the police would forcefully deported them out of the place.
UPND president said this was the same Mumbuna who personally disrupted three of their scheduled meetings yesterday and he personally fired live gunshots.
'I have personally spoken to Mumbuna himself and told him that what he is doing is totally unconstitutional and that we have the right to peacefully continue with our campaigns as provided by the electoral code of conduct.So far police officers mainly from the Copperbelt and other areas have been mobilised and are being abused to carryout the nasty exercise which might result into other ugly scenes around Solwezi as we are not leaving this place until our schedule period,'Mr.Hichilema said.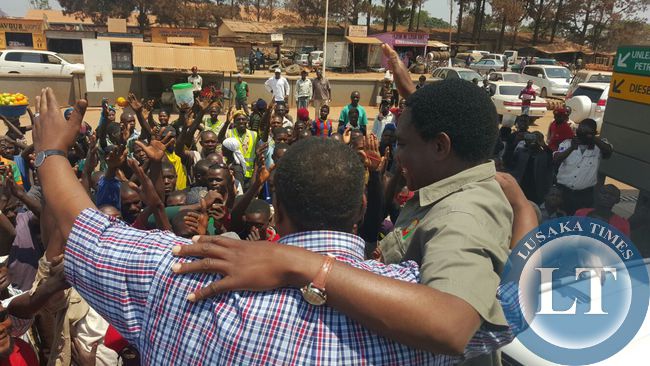 'These are officers from the Copperbelt whose welfare we are fully concerned with as well because they are equally facing harsh economic challenges.These are basically the same tactics our colleagues in the PF use when they know they are losing an election and want to forcefully grab it by all crooked means.At time like this, one would think our energies would be towards salvaging the economic downturn than threats and intimidation of political opponents.Our people are losing jobs in the mining communities and other industries and so far, we have already received confirmed cases of people committing suicide on being served letters of redundancy,'Mr.Hichilema said.
In a press statement released to the media by UPND legal chairman Jack Mwiimbu,the UPND said they have taken note of the gross and wanton violation of their members' fundamental rights yesterday and today by the Police in Solwezi.
Their attempt to disrupt and cancel the campaign meetings of UPND President Hakainde Hichilema is not only despicable but also unacceptable.

Zambia is not a police state, where the Police do whatever they wish.
Zambia is not a police state, where the Police do whatever they wish. Zambians have fundamental human rights that are protected by the Constitution.
We therefore wish to give notice that individual police officers shall be held accountable. We shall henceforth take note of the individual acts of police officers and appropriate legal action will be taken against them in courts of law.
We advise police officers not to abide by unlawful instructions for they shall be held accountable in their individual capacities.