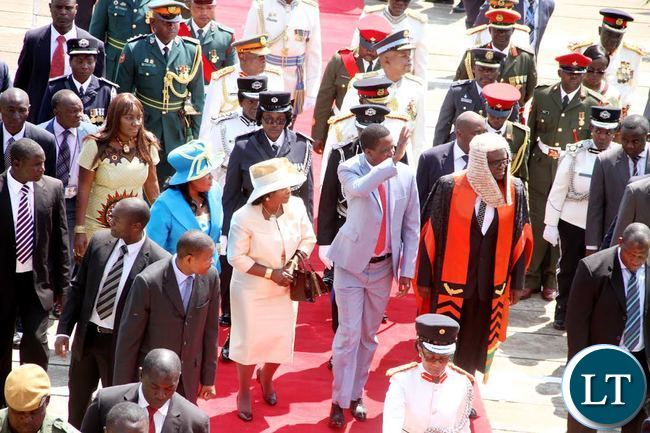 OPPOSITION political parties have welcomed President Lungu's call for peace, unity and an end to politics of violence.
UPND says all well-meaning Zambians should support the President's call for peace, unity and an end to political violence.
UPND deputy spokesperson Edwin Lifwekelo said opposition political parties do not exist to insult the Government.
"It is time we started championing issues that bring about development and not insults. Any call for peace and unity must be supported," Mr Lifwekelo said.
He said all stakeholders should take responsibility and show leadership.
"This is a timely call for all those who are in Government and those who are in opposition," he said.
Mr Lifwekelo said the issue of name calling is not the way to go but that politicians should practise politics which add value.
He said it is important to give praise when it is necessary adding that opposition political parties do not exist to criticise.
And NAREP president Elias Chipimo said calls of peace and unity are welcome. "The President himself should be in the forefront and demonstrate a culture of peace and unity. As politicians, we should tell our cadres who perpetrate violence to stop doing so," he said.
And Christian Democratic Party president Daniel Pule said the President should be commended for calling for peace and unity.
"We believe in politics of peace and not insults. We hope that all Zambians regardless of their political affiliation will support the President,'' he said.
And Forum for Democracy and Development (FDD) Secretary General Antonio Mwanza said the President should walk the talk because as a leader, he (President Lungu) should be in the forefront of initiating ways of promoting peace.
And MMD President Nevers Mumba said the President alone cannot initiate peace but that he should involve other players like opposition political parties.
And hundreds of youths in Lusaka yesterday held a peace rally at Freedom statue in solidarity of President Lungu's continued call for peaceful politics.
The rally was organised by PF Youths for Peace chairperson Eddie Gowa.
The youths adhered to the party's banning of wearing berets and were orderly during the event.
They sang and danced to pro-PF political songs and showered praises on President Lungu's style of governance.
Dubbed 'youths unite for peace', the rally took stock of President Lungu's abhorrence of violence.