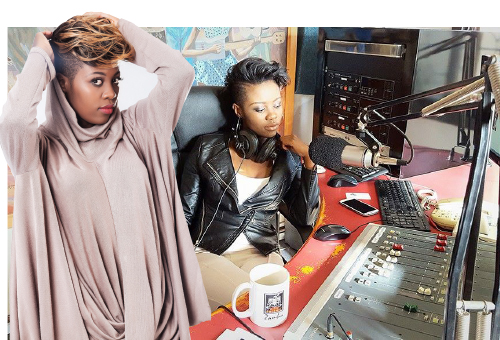 DJ Roxy is set to co-host this year's Lake of Stars Festival in Malawi's lakeshore town of Mangochi, which is expected to have 95 acts on three stages across three days from today until Sunday.
First secretary for press at the Zambian High Commission in Malawi, Chansa Kabwela, confirmed in a statement that DJ Roxy (Chanda Kangwa), who hosts a programme with Luchi on Radio Phoenix dubbed 'Breakfast with Luchi and Roxy', will be at one of the most renowned festivals in Southern Africa.
"The Zambian High Commission in Malawi is pleased to have played a facilitative role in this engagement to ensure that the immense skills and talent that Zambians have shared and exposed on the international stage," the statement reads.
"The Zambia High Commission remains committed to strengthening relations between Zambia and Malawi as well as promoting the creation of business linkages and partnerships among the people in the two countries.
"The mission is optimistic that many other Zambians will in future have an opportunity to participate and showcase the country's rich art and culture through DJ Roxy's involvement in the Lake of Stars international music festival this year."
The Lake of Stars, now in its 11th year, promotes Malawian arts and tourism through international interaction and exposure. They organise festivals on the shores of Lake Malawi and run events in Europe and across Africa.
It was set up by Will Jameson in 2003 to encourage international tourism to Malawi, taking inspiration from events like WOMAD and Glastonbury.  The project uses cultural tourism to generate revenue and exposure for Malawi.
The project was born from a desire to raise money for a developing economy, help promote Malawi as a tourist destination and expose Malawian artistes to an international audience.
Will Jameson first visited Malawi in 1998 when he worked as a volunteer with the Wildlife Society for six months. During that time, he travelled to Zimbabwe, Zambia and Mozambique.
On returning to England, Will took with him a souvenir – an empty carton of Chibuku Shake Shake beer. Half way through university at Liverpool John Moores, he decided to start a clubnight with friends. They named the nightclub after the Malawian beer and went on to win Best UK Club in the Mixmag Awards in 2004.
It was in this same year that he launched the first Lake of Stars Festival, headlined by Chibuku favourite Andy Cato from Groove Armada.
The festival attracted dozens of people from Europe and hundreds attended from all over Malawi and Southern Africa. It won the Malawi Tourism Award in its first year and has grown to become one of the best known African festivals on the global circuit.
International headliners at Lake of Stars events have included Annie Mac, Beverley Knight, Bombay Bicycle Club, Eddy Temple-Morris, Freshlyground, Goldfish, Goldierocks, K'naan, The Maccabees, Mafikizolo, Oliver Mtukudzi and Sauti Sol, among others.
This year's show is expected to be headlined by the likes of Young Fathers (Scotland), Uhuru (South Africa), Toya Delazy (South Africa), Menes (Democratic Republic of Congo) and Ric Hassani (Nigeria).
(DailyMail)