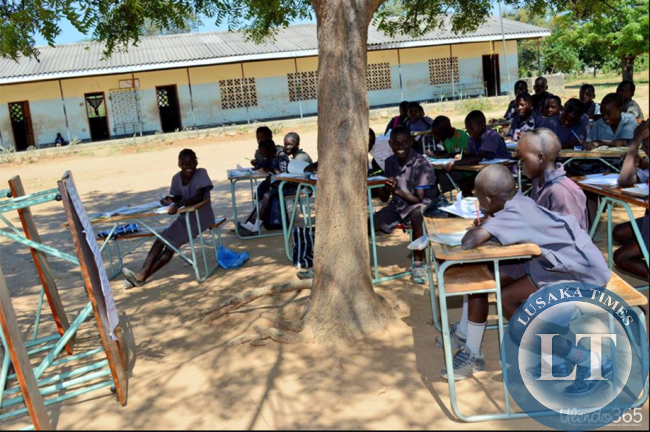 Southern province permanent secretary, Sibanze Simuchoba says government is aware that failing to invest in education is a recipe of socio- economic stagnation adding that it will ensure that it invests in the education sector in an effort to secure the future of the young.
Mr. Simuchoba said while the population growth of the country has out stripped the ability to provide adequate space at senior secondary school level, government has embarked on a massive learning infrastructure development where many secondary schools are being constructed while some primary schools are being upgraded to secondary ones.
He observed that countries that have heavily invested in human resource development have made rapid and meaningful socio-economic development hence the government's quest to invest heavily in the sector.
The permanent secretary was speaking in Kalomo yesterday during a handover of a new administration block for Mwaata day secondary school which was constructed at a cost of K520,000 by government and with the help of the community and the Parents Teachers Association (PTA).
Meanwhile, Southern province education officer Florence Chikalekale, has urged the teaching fraternity to execute their duties diligently after having been given new conducive environment (staff room) to operate from.
Chikalekale also prodded the girl pupils at the institution to take education seriously saying it was their passport to have prosperous lives in future.
She observed that since the school was catering for pupils who come from about a 100 kilometres away and who in most cases are renting in the peri-urban compounds in the township, it was important that the girl learners conduct themselves in an orderly manner to avoid falling prey in illicit behavior while in the compounds.
And Mwaata secondary school PTA chairperson, Cosmas Chiiba who is also Kalomo district commissioner has urged all stakeholders to come on board to assist the school complete the girl's hostel which is being built at the institution to ease accommodation problems the minors outside the town are facing to access education at the institution.
In recent years, school authorities at Mwaata secondary school expressed concern at the high rate of pregnancies among the girl pupils at the institution attributing the vice to self-renting in the compounds.
Mwaata day secondary school was upgraded to secondary level a decade ago in an effort to accommodate a number of pupils who could not get places a secondary level due to limited number of secondary schools in the district.