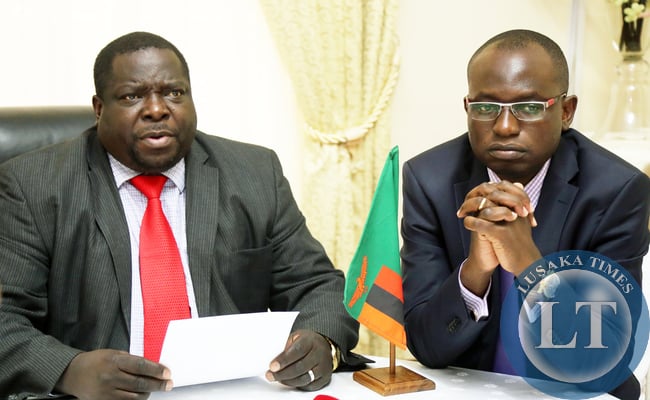 Government has said that there is no justification for millers to increase the price of Mealie meal. Chief Government Spokesperson Chishimba Kambwili has said that the depreciation of the Kwacha has not affected the millers in anyway because the maize they have now was bought last year and at a reduced price.
Mr. Kambwili who is also Information Minister has told ZNBC News in a Telephone interview that there is need for everyone to be responsible and sympathetic to the current economic situation that most countries in Africa are going through.
The Minister has urged the millers to exercise caution and not use the depreciation of the Kwacha to increase the price of Mealie meal.
Millers Association of Zambia President Allan Sakala announced at a media briefing in Lusaka on Sunday that his association has resolved to increase the price of Mealie Meal by 10 and 15 Kwacha on a 25 Kilogram bag effective this week.
Mr. Sakala said that the increment is due to high production costs as a result of load shedding.
Mr.Sakala has also attributed the increase of the country's staple food to the high demand of maize on the market due to exports.
MAZ urged Government to immediately ban the high exports of maize by private sector as the trend will lead to escalating Mealie Meal prices.
The millers said Government should immediately ban international traders from exporting the commodity because they were buying up all the available maize at inflated prices leaving local millers with virtually no stocks.
Mr Sakala said that the international traders were buying maize at a high price of K1, 950 per tonne or K97.50 per 50 kilogramme bag.
They said the Zambian Government should emulate countries like Zimbabwe which had imposed a ban on importation of mealie meal to protect its local millers against competition from other countries including Zambia.
Government should only allow the Food Reserve Agency (FRA).
He said the current situation was not making any economic sense and it was killing the milling industry and the Zambian consumers would bear the consequences.
Mr Sakala said the depreciation of the kwacha was an indication that international traders were buying the Zambian maize at a cheap price against the dollar thereby creating an artificial increase in Mealie Meal prices of between K10 and K15 within Lusaka.
"If exports are not banned, millers will be forced to increase Mealie Meal prices and consumers should brace themselves to pay up to K100 per 25 kg of maize, as MAZ we are advocating for an immediate ban on the issuing of maize exports and only allow FRA to do so," Mr Sakala said.
Mr Sakala said the international traders were buying all the stocks for exports at inflated prices making an increase in the price of maize of close to 25 percent in just two months of the maize marketing season.
He said in addition to the escalating maize prices, Millers were already burdened by up to 50 percent in loss production due to load shedding and general power outages coupled with the latest proposed increase in ZESCO tariffs slated for November 1 this year.
"These same traders are able to pay up to US$220 per tonne for export and under the current rate that equates to K2, 500 per tonne or K125 per bag," he said.
Meanwhile, the Zambia Consumers Association (ZACA) has opposed plans by the Millers Association of Zambia (MAZ) to increase the mealie meal prices by about K15 saying it will affect the consumers who are the poor majority Zambians.
ZACA Information and Publicity Officer Juba Sakala said that in the recent past, consumers have continued to suffer price increases making it difficult for them to afford the basic necessities.
Mr. Sakala said that the millers should have looked at the impact this will have on the consumers.
Mr. Sakala said that millers should have considered to dialogue with relevant stakeholders like government over this issues affecting their operations and see how best their challenges can be addressed.
He said that the reason given by the millers of power deficit is not a genuine one as this has been going on for some time now.
Mr. Sakala has since called on government to immediately engage the millers over this move so as not to affect consumers.