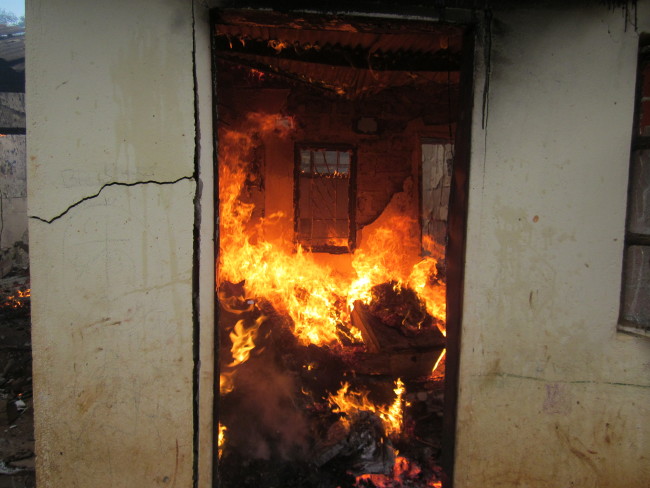 FAITH Deeper Understanding Church and Ministries, whose building was razed and set ablaze by unruly residents in Kitwe's Buchi-Kamitondo Township last week on Thursday after news went round that its pastor, Apostle Anthony Musuku, had turned into a snake, has continued going strong.
Apostle Musuku and his members this week on Sunday defied all odds when they went ahead to conduct a service at the very site where the congregation suffered an attack at the hands of ruthless residents who besieged the church with the view to lynching the pastor.
This was barely three days after the attack by the uncompromising residents who also fought running battles with the police on their way to burning the church structure.
With all eyes on the church following last week's news of Apostle Musuku having allegedly turned into a snake and setting ablaze of the church building structure, the congregation on Sunday refused to succumb to the attack by going ahead to conduct the service, which was interestingly massively attended.
Samuel Mvula who is a Church elder said hundreds of people, with some only interested in seeing Apostle Musuku in personal after his news of having turned into a snake, popped up.
Mr Mvula said in an interview with the Times of Zambia yesterday that the church and its pastor, Apostle Musuku were still in the 'game' and going strong.
He said after the church structure was razed, the church mobilized and erected a temporal shelter at the same site where the initial building infrastructure was razed.
Mr Mvula said the church on Sunday used the same temporary structure to conduct the service which was led by Apostle Musuku.
"We had a service yesterday (Sunday) which was conducted by Apostle Musuku and we had a large gathering with some people, of course, only interested in finding out about our pastor," Mr Mvula said.
He said this week's Sunday service was a demonstration that news of Apostle Musuku having turned into a snake was a mere fabrication.
He said Apostle Musuku and the church would remain focused to God's cause of taking salvation to people.
Apostle Musuku who commands a big following with the population of his congregation situated in Buchi-Kamitondo believed to be well over 1, 000 people and is known to possess healing powers has come to the limelight after a mob of unruly residents last week stormed his church building with the view to lynching him for having allegedly turned into a snake.
Efforts to get a comment from Apostle Musuku by press time failed.
[Read 259 times, 1 reads today]