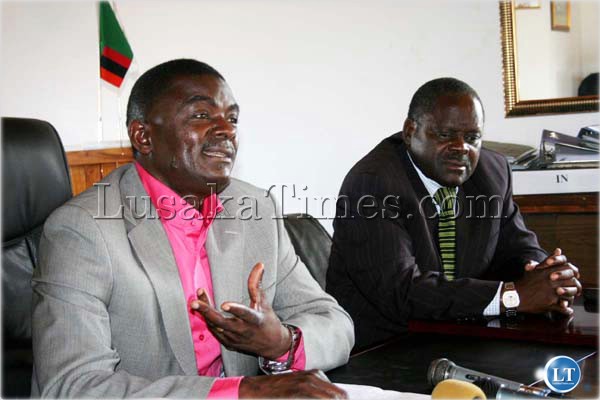 FORMER Zambia Congress of Trade Unions (ZCTU) secretary-general Roy Mwaba and two Rainbow Party senior provincial leaders have joined the Patriotic Front (PF), citing good leadership qualities being demonstrated by President Lungu and his administration.
And PF secretary-general Davies Chama has urged party members to embrace new-comers and work extra hard in mobilising the ruling party ahead of the 2016 general elections.
Speaking in Lusaka yesterday after joining the ruling party, Mr Mwaba said he has joined the PF because of its unsurpassed socio-economic programmes that have started uplifting the welfare of people in the country.
"After serious reflections on the political developments taking place in the country, I have finally decided not to sit on the fence and be a spectator but to join the PF party so that I can contribute to the development efforts being made by the PF government.
"I must also emphasise that ever since President Lungu took over leadership of the party, the PF has demonstrated maturity and dynamism by welcoming new-comers who have been joining the party in the past few years," Mr Mwaba said.
He said after carefully scrutinising the manifestoes of various political parties, he decided to tug along with the PF because the party stands for ideals meant to improve the socio-economic status of Zambians.
Mr Mwaba also said the decision to join the PF is one made in the interest of nation-building and sacrifice to the country.
"The current challenges we are going through as a country demand a clique of leaders who are dedicated and committed to finding solutions under this very trying moment and the PF leadership has ably demonstrated this spirit and needs the support of everyone," he said.
Rainbow Party Lusaka Province chairperson Mulenga Mwiche and vice-chairperson Stanslus Mambo have also joined the PF.
They said they have joined the ruling party because of President Lungu's message of love, unity and reconciliation.
"President Lungu is a unifying President we have ever had in Zambia. He has been preaching love, unity and reconciliation and this is what we want as Zambians," Mr Mwiche said.
Receiving the new members, Mr Chama urged the PF membership to welcome new-comers.
Mr Chama said politics is about numbers and that he is ready to work with both old and new members.
He also said the PF will win the 2016 general elections because of the projects that are currently being initiated and implemented by Government.