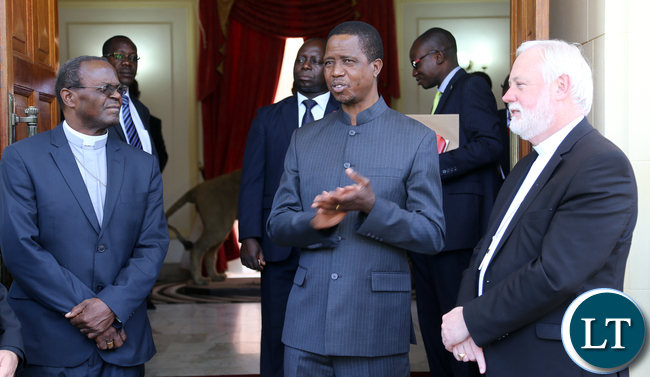 President Edgar Lungu has asked the church to pray for government in its quest to deliver and improve the socio-economic status of Zambians.
President Lungu said there is need for the church to counsel government and give guidance in order to secure the interests of Zambians.
The Head of State said that Zambia has taken time to reflect and seek the face of God in her endeavours to develop and serve God.
President Lungu pointed out that Zambia has devout Catholics adding that the Catholic Church has continued to play a pivotal role in evangelisation and provision of socio-economic services to people.
The President was speaking when Vatican Minister of Foreign Affairs Monsignor Paul Gallagher paid a courtesy call on him at State House in Lusaka today.
And Monsignor Gallagher noted that the Catholic Church in Zambia has made significant achievements in the last 50 years of bilateral relations with the Holy See.
He said it was important that the Catholic Church renews its relations with Zambia and move to another level of cooperation.
Monsignor Gallagher is in the country as Pope Francis's special envoy to celebrate 50 years of diplomatic relations between Zambia and the Holy See.
Monsignor Gallagher was accompanied by Apostolic Nuncio in Zambia Julio Murat and Archbishop of Lusaka Telesphore Mpundu who is also President of the Zambia Episcopal Conference and Marco Formica who is Deputy of the Apostolic Nunciature.