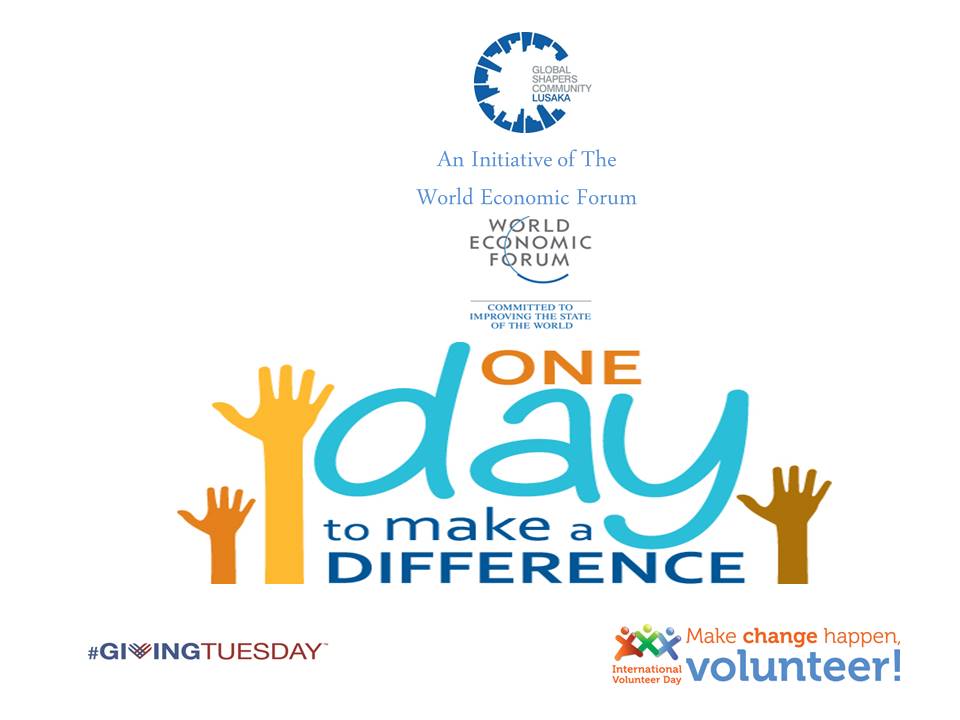 Tuesday December 1st and Saturday December 5th is World Giving Day and International Volunteer Day Respectively. The two days are a chance for organizations and institutions to contribute to changing the state of the world through voluntary work and help develop our communities at local, national and international level.
The Lusaka Global Shapers will be taking part in World giving Day by collecting and donating old clothes, shoes, books and other items from the public and by volunteering at various local organizations in Lusaka. We hereby invite you to participate in this year's commemoration of World Giving Tuesday and International Volunteer Day. The Following are the proposed activities for World Giving Day and International Volunteer Day.
Tuesday December 1: Drop off your gently used clothing or books at the box which will be placed at Ster Kinekor Arcades from 08hours to 17hours.Tuesday December 1: Donate blood at the National Blood Bank at UTH (Next to Maternity Wing) from 08hours to 21 hours. Blood donations only take about 30 minutes.Saturday December 5. Join the Lusaka Shapers at any of the following places.
Times: 08 hours to 12 hours (*You are not obligated to stay for the entire event)
KAYULA CANCER CENTER
Activity: Visiting and Interacting with the kids alongside award winning songbird Scarlet and radio Phoenix presenter Luchi.
LUBUTO LIBRARY
Activity: Storytime with the kids alongside Mulenga Kapwepwe (National Arts Council Chair) and Lulu Hangaala (Media personality, Partner at Dagon Media, Samsung and Pizza Hut Brand Ambassador)
THE DEVELOPMENT AND INTERVENTION CENTER
12 to 15 hours
Activity: TBA
THE LUSAKA ANIMAL WELFARE SOCIETY
Activity: Walking or bathing dogs
FOUNTAIN OF HOPE
Activity: Makeup session with award winning bloggers MaFashio and hygiene session with the kid