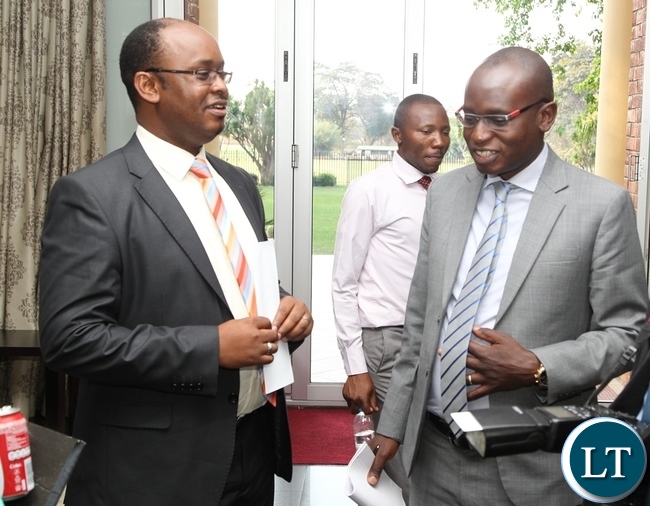 We are not in a habit of engaging the disgraced former Civil Society leader Mr. Sunday Chanda because we feel he lacks does not understand governance matters in Zambia but we feel compelled to state simple facts due the gravity of distorted and misguided statements attributed to him in the media.
Mr. Sunday Chanda alleges that the UPND Party President Mr. Hichilema Hakainde spoke in contempt of the country and its citizens by stating that;
Red tape Bureaucracy is a hindrance to doing successful business in Zambia.
Concentration on Copper Industry has robbed Zambia of every opportunity by the Government to diversify our Economy.
Our Tourism Industry has not been fully exploited by the Zambian Government as we only sell Victoria Falls to be the only Site attraction in Zambia. Sites like Musonda Falls in Northern Province are not equally promoted.
We are at pains to comprehend how a ruling party in government can fail to understand the Zambian Business life today as well as its serious Economic challenges.
Mr. Chanda shamelessly described the three outlined factors affecting Business in Zambia today as "cheap attack on Zambia and its people" when even our Bank of Zambia and the Ministry of Commerce have highlighted them as Challenges to Zambia today.
The PF Government has unwisely moved Roads Development Agency Office to State House, so every Contractor who dreams of doing business with RDA should go through the security clearance system at State House. Is this bureaucracy necessary for a public institution like RDA to be stationed at State House? Therefore you need political connections in State House for you to get a RDA Contract under PF.
Mr. Chanda can not even tell the Zambians what Achievement PF Government has scored in the last 4 years in diversifying the Economy of Zambia from dependency on Copper to Agriculture.
PF Government has even destroyed the vision for Farm Blocks left behind by the MMD Government like Nansanga Farm Block.
We ask Mr. Chanda to brief the Zambia what happened to negotiations regarding the Bonafarm Group which, under MMD Government, won the tender to develop Nansanga farm block's anchor core venture plot where Zesco spent US25 million in putting up electricity and ZNS graded the roads.
We urge well-meaning Zambia to ignore the last kicks of our friends in PF as they are now afraid of their own shadows due to the massive failed Economic policies in last 4 years where we shall soon be classified as a Highly Indebted Poor Country again thanks to PF Government.
By Matthew Chanda,
UPND Kitwe District Media team

[Read 51 times, 1 reads today]