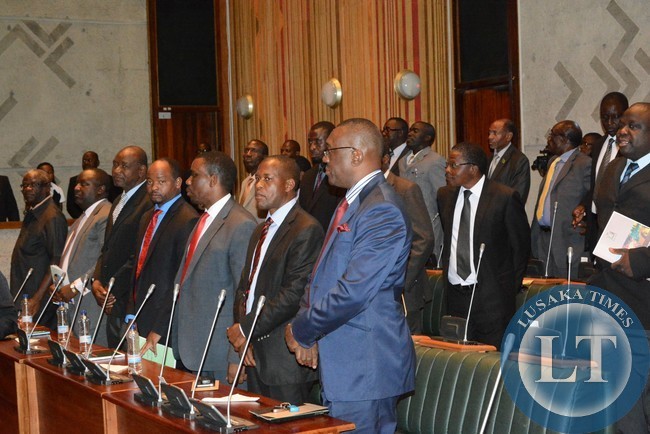 In part I of this discussion I gave the "50 % Plus One" provision as one example of a contentious provision that must be clarified and/or justified, if not amended to compel all eligible voters to vote in order to qualify to be classed as a majoritarian outcome. I believe that there are several other contentious examples which alert Members of Parliament can identify and debate; we pay them to debate! It is unfair and naïve and may even be dangerous for the MPs to just pass the whole document without due consideration.
I urge that, because the Government has no position on the Constitution, the Honourable Minister should not move any amendments or even say anything but leave the MPs to make up their minds in a vacuum!
It is unfair and naïve and may even be dangerous for the MPs to just pass the whole document without due consideration.



The question must now be asked: in making and writing the so-called new constitution, what is it we are trying to defend or protect? Once this question has been answered, it should form the basis for any policies that should guide the passing of the Draft Constitution.As I see it the following are some of the contentious issues that I see in the Draft Constitution:
Land,
Defence and Security,
Media,
Citizenship,
Cabinet from outside Parliament,
Combining the Tripartite Elections with the Referendum,
2nd ballot after presidential election,
Cabinet from outside; Clause 108 (1) (b) which declares that a president would be impeached for a crime under international law (you want this in the Constitution? Can we do the same for the President or Head of say a European state?). All these must be debated and not passed using a rubber stamp.
Land
I place land as the topmost priority; it should actually appear as Part II after Part I 'Supremacy of Constitution'. We are Zambians because of land; we are indigenous because of land; without land we are nothing and shall inherit nothing. Under Clause 262 (1) Land, Environment and Natural Resources of the Draft Constitution the provision states "Land shall be held, used and managed in accordance with the following principles (c) recognition of indigenous cultural rites". I accept this; but how can cultural rights be recognised without recognising the indigenous people themselves? Why are we ashamed of the indigenous people? The recognition of the indigenous people, all 73 of them, must be stated unequivocally both in the Preamble and in the body of the Constitution. The principle should be that other persons are welcome and must continue to be protected by the various laws of the land.
Land MUST NOT be vested in the President
Land MUST NOT be vested in the President because he is just one of the villagers with at most two villages only (maternal and paternal). State House is perceived to be the seat or factory of corruption and seems to be manipulated and controlled by unknown forces. Until this changes and there is an example of discipline at high levels, we cannot and must not entrust this precious God-given asset to an individual. The communities must have a say, the greater say, in how their land is preserved, protected, controlled and managed.
Literary nothing has been said about Defence and Security. Let us hear the debate; why should political parties create parallel Defence and Security units while in opposition and take them into State organs when they win elections? This has been a very dangerous precedent; we may want to learn why after 50 years other nations are coming to train units of army in our barracks.
Someone please explain this provision, who sponsored or promoted it and why after 50 years of independence: Clause 4 (3) "The Republic is a unitary, indivisible, multi-ethnic, multi-racial, multi-religious, multi-cultural and multi-party democratic State". It requires explanation as to its full import.
Public Media must finally be freed; it must not be as it was in the One Party State, a medium only for those in power and their families and cronies. Debate this openly.
I urge and insist that all the 158 MPs debate the Constitutional Bills so we can hear them make sense of the 322 clauses before voting. God bless Zambia, our Heritage!
GODFREY MIYANDA,
BRIGADIER GENERAL,
[8TH DECEMBER 2015]
[Read 15 times, 1 reads today]