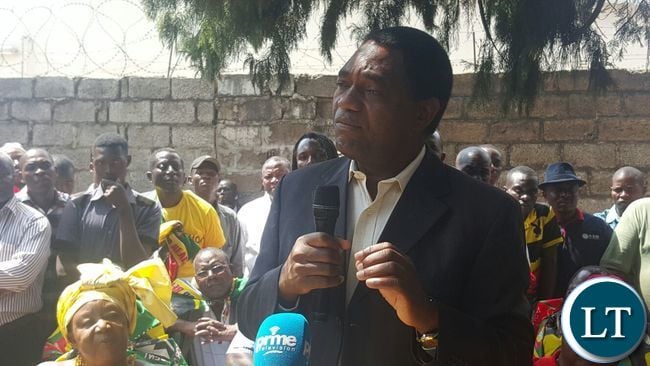 Opposition UPND president Hakainde Hichilema has called for free and fair elections in the August 2016 general elections.
Speaking when he featured on hot FM's Hot seat program, the opposition leader said his party did not want violence during election saying "we don't want pangas during this year's elections."
He said polling stations should be opened to all stakeholders without any intimidation from any political party or individuals.
"We want a free and fair election. We don't want pangas, we want polling stations to be opened to all stakeholders, political party election agents, observers and other stakeholders.
We need constituency totalling centres to be open, we want the national totalling centre to be open to all stakeholders, the centre were results were being changed in the 20th January presidential election. We don't want ECZ officials, PF cadres and councillors to be the only ones in the room, it must be open.
Why would you close the centre when the results come from polling centres. An election is not for only one citizen, an election is a public affair," Mr. Hichilema said.
And on public media houses Mr. Hichilema said the media houses and their reporters were lying to people by publishing false stories.
He gave an example of the stories published by Times of Zambia and its sister media Zambia Daily Mail in which he allegedly blasted 2 Traditional leaders from Southern Province for welcoming PF Secretary General Davis Chama of being typical examples of the falsehoods being published by the state run media houses.
He said it was sad that government officials and PF cadres were interfering with the operations of government media houses.
On the constitution, the opposition leader said the numbers at the stadium showed President Lungu that he was signing a document which people did not agree with.
He said PF had spent over 2 billion on a constitution which people have said no to as seen from the empty seats at Heroes Stadium.