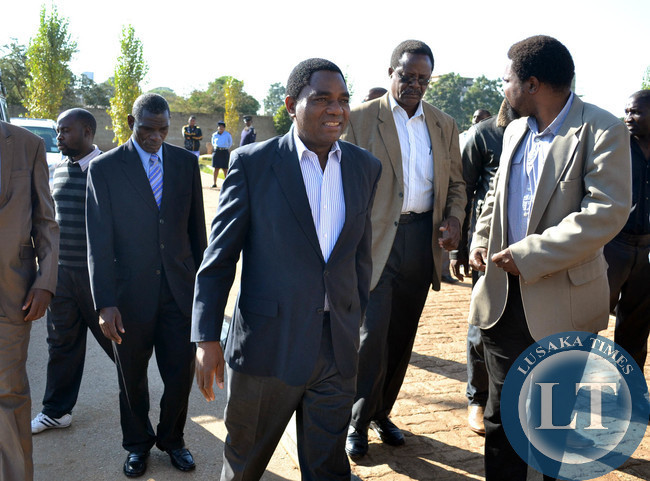 OFFICIAL STATEMENT
January 7th, 2016
HH SUES TIMES OF ZAMBIA, ZAMBIA DAILY, INDIVIDUAL JOURNALSTS AND PF OFFICIALS
We wish to confirm that we have commenced legal proceedings against Times of Zambia, Zambia Daily Mail, and media personal in their individual capacities before the High Court over what we consider are defamatory articles they recently published.
Others we have taken to court are some senior PF officials such as PF Secretary General Davies Chama, PF Deputy Chairperson for Information and Publicity Sunday Chanda, and PF Lusaka Province youth chairperson Kennedy Kamba.
We have asked the Lusaka High Court to order all the defendants to pay K1 million each in damages for alleged defamation of character and further restrain them from publishing similar defamatory words against us.
In the Times of Zambia legal suit, we are citing articles published on December 28, 2015, in which the newspaper published a story under the headline "PF slams tribal remarks" and another article accusing us of having castigated a chieftainess headlined "Refute tribal remarks HH told ", which article was published in theSunday Times of Zambia on December 27, 2015.
For the Zambia Daily Mail, we are citing articles the newspaper published on December 27, 2015 under the headline 'Its shameful to welcome Bembas-HH and another one on December 28, 2015 alleging that we were not good leaders because we has continued to issue tribal remarks.
We feel the words complained of were in their ordinary and natural meaning understood to mean that we were not fit to be president of UPND and let alone, Republican president.
That we are tribalist who will never preside over critical affairs of the country and that we are bitter because Mr. Chama visited the Southern Province.
We have asked the court to grant us an injunction restraining the defendants, their agents, servants or employees from commenting, publishing, and uttering similar words against us.
We wish to request members of the general public to please refrain from commenting on these issues, as doing so will now amount to contempt of courts.
Hakainde Hichilema
UPND President