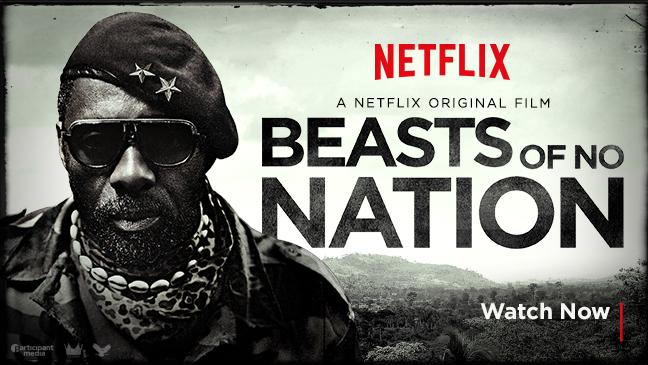 A drama based on the experiences of Agu, a child soldier fighting in the civil war of an unnamed African country.
PROS
Outstanding performance by the young Ghanaian actor 

Abraham Attah ,

who played the part of Agu.
Idris Elba also gave an Excellent performance as the ruthless commandant.
Very tense and emotional story-line .
The movie was visually appealing , it had many scenic locations and had great cinematography .
FAVORITE QUOTES
Agu: "I saw terrible things… and I did terrible things. So if I'm talking to you, it will make me sad and it will make you too sad. In this life… I just want to be happy in this life. If I'm telling this to you… you will think that… I am some sort of beast… or devil."
Commandant: "All of you that have never been listened to before and have seen your family killed, huh, you now have something that stands for you. You now have something that stands for you!"
Agu: "Bullet is just eating everything, leaves, trees, ground, person. Eating them. Just making person to bleed everywhere. We are just like wild animals now, with no place to be going. Sun, why are you shining at this world? I am wanting to catch you in my hands, to squeeze you until you can not shine no more. That way, everything is always dark and nobody's ever having to see all the terrible things that are happening here."
CONCLUSION
"Beasts of no Nation" may be a fictional movie but it gives a true-to-life depiction of the harrowing effects of war in Africa ; tearing families apart ,displacing thousands of people and the inhumanity of child soldiers and the horrors they go through. The innocence is stolen from these children and they are made to commit heinous acts of violence . They are brainwashed into believing the ideologies of their leaders such that they wouldn't escape even if they had the chance.
Abraham Attah gave a tremendous performance as Agu , a young boy caught up in a vicious war and forced to be a child soldier . There was great character development ,as you watch him go from a care-free boy playing with his friends and brothers , to a dangerous child soldier getting deeper and deeper involved in the rebel army . You will get emotionally attached to the character .
Idris Elba may have been outshone by Abraham Attah ,but he gave a phenomenal performance as the ruthless , cunning commandant of the rebel army.
This is a fascinating and thought-provoking movie that all must watch . It will make you appreciate the peace we have even more .
RATING
5 out of 5