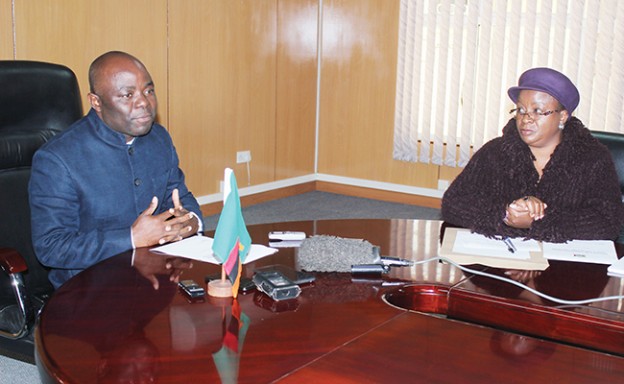 MINISTER of Local Government and Housing Stephen Kampyongo has directed the Kitwe City Council (KCC) to raze structures that some residents have illegally constructed across the Kafue River in Mufuchani area.
Mr Kampyongo has also directed the local authority in Kitwe to abide by the new employment laws that forbid casualisation and unjustified termination of contracts for employees.
He said the local authority should address the problem of illegality across Mufuchani Bridge before the situation gets out of hand.
"We cannot have this. This has to come down. The council should immediately demolish these illegal structures," said Mr Kampyongo when he toured Mufuchani Bridge, which is nearing completion.
He said Government is not against the idea of people owning land but it is important that the right procedures are followed by all citizens when acquiring land.
"We shall give plots normally when the area is properly planned.
Things should be done properly," he said.
And speaking earlier when he addressed Mufuchani residents that have been living in the area for a long time, Mr Kampyongo urged them to be vigilant and not allow 'unscrupulous' people to build structures illegally.
He urged the residents to submit a list of residents to the local authority so that no strangers claim that they also live there.
Kitwe town clerk Bornwell Luanga said the local authority would soon implement the minister's directive to raze the illegal structures.
"We cannot tell you when it will be done because we will be alerting those people but it will be soon," Mr Luanga said.
On casualisation and unjustified termination of contracts for workers,
Mr Kampyongo said Kitwe City Council and other local authorities must be shining examples in abiding by the new law.
He said the law is meant not only for private companies but for all institutions.
"The Act of Parliament has been passed on the ban of casualisation.
Kitwe City Council needs to observe the law when employing people. This directive should also apply to all other councils," Mr Kampyongo said.
He said Government will not entertain employers who will be found wanting of abrogating the new law on the ban of casualisation and unfair dismissal of workers.
President Lungu last week signed the Employment Act banning casualisation and unjustified termination of employment in the country.