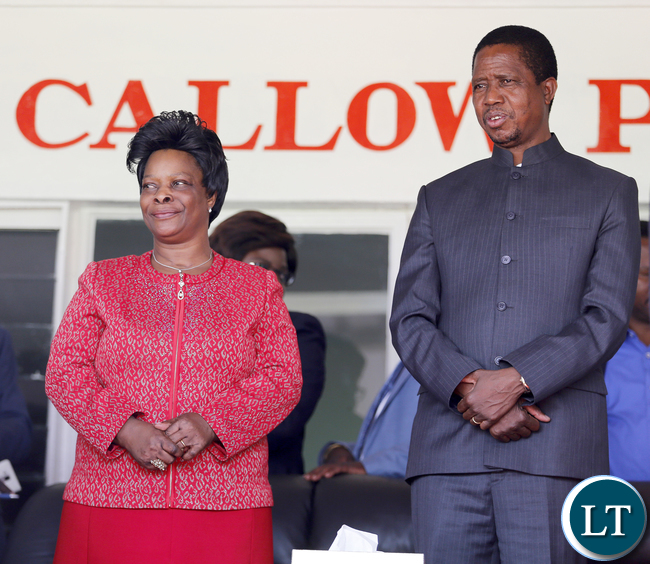 President Edgar Lungu says it is unfortunate that some people are blaming him for the economic challenges the country is going through.
The President said the depreciation of the kwacha and the low rainfall which the country is currently experiencing are natural phenomenon which has nothing to do with his administration.
President Lungu said he is just coming from Namibia where people are equally complaining about the poor rainfall pattern and the depreciation of their country's currency.
President Lungu was speaking when he addressed the people who gathered to welcome him at the presidential lodge in Kitwe.
He said the current challenges the country is facing can only be addressed by praying to God and not finger pointing.
The president reminded the people that God loves them and that is why the country has remained peaceful through the reign of the various presidents that have ruled the nation.
He has advised the people of Zambia not to listen to those cheating them as they are just interested in usurping power.
He said that his administration is a pro- poor government that is why it is carrying out projects which will benefit the people.
The president wondered why the same people who are boasting of being wealthy are failing to help the marginalized.
He said Zambia needs a caring president not those who just want to get to state house to enrich themselves.
Meanwhile, President Edgar Lungu has called on political players in the country to exercise maximum restraint as the elections draw near.
President Lungu has also challenged the church to continue preaching peace across the country and to inculcate values of oneness among Zambians ahead of the polls.
The head of state made the remarks when he addressed thousands of United Church of Zambia -UCZ-Members who have assembled at Nkana Stadium to take part in the Golden Jubilee celebrations.
President Lungu has insisted that violence has no place in Zambia because the country has been known regionally and globally to be a beacon of peace.
The President has emphasized that there is need for every Zambian to work hard and maintain this record.
And President Lungu has appealed to all registered voters to turn out in large numbers on August 11 when the country holds general elections and vote.
The President says he is happy that UCZ has been a pioneer in promoting gender equality.
President Lungu says this is evidenced by many female clergy who have been ordained to preach the word of God side by side their male counterparts.
The President reminded the church that before appointing Inonge Wina as Vice President UCZ had already demonstrated impartiality by putting the responsibility of the Synod General Secretary on the shoulders of a woman.
And UCZ Synod Bishop for Zambia Mutale Mulumbwa encouraged President Lungu and his government that the church is always praying for them because they have a biblical mandate to do so.