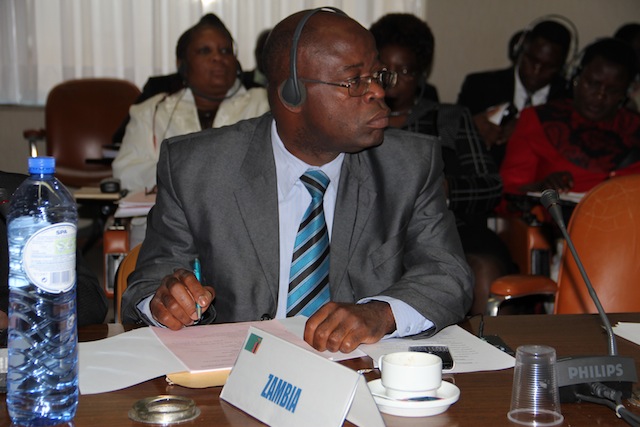 Deputy Inspector General of police (DIG) Eugene Sibote has condemned the UPND cadres for their unruly behavior yesterday in Choma Southern Province, reports Pan African Radio journalist Hermit Hachilonde.
Speaking when he addressed members of the press at police force headquarters today, Mr. Sibote said Police in Choma managed to at least apprehend 21 suspected UPND cadres in connection with the riots that happened around 15:00 hours.
He further disclosed that a Toyota Corolla Registration No.AJB 4809 which was being used by three cadres to cause commotion has also been impounded.
"The UPND cadres who had gathered along the main road in anticipation to receive their President Mr. Hakainde Hichilema, blocked traffic , climbed on moving trucks and started throwing stones at passing motor vehicles which resulted in three of them including a Police Landcruser ZP 2312B being damaged."
Mr. Sibote said that in trying to restore order and peace, police used tear gas canisters to disperse the cadres.
"In trying to restore order, three police officers sustained injuries after being stoned by the rioters. Arising from the unruly and riotous behavior, police used tear gas to disperse the cadres" Eugene Sibote said
Mr Sibote said condemned the conduct of the UPND cadres and warned that the Police would not condone any acts of violence.
The conduct by UPND cadres as witnessed in Choma shall not be condoned and for this reason, all the apprehended suspects will be taken to court and prosecuted for their involvement in the riotious activity.
"It is unfortunate that the UPND leadership could not restrain their cadres even after having assured the Police Command that they would always abide by the provisions of the Public Order Act," he said.
He has since called upon all political leaders to ensure that they prevail on the conduct of their cadres even as they notify Police of their intentions to hold political activities.
But UPND spokesperson Charles Kakoma has accused police of tear gassing the party members who has lined up along the Choma-Lusaka Road to welcome party leader Hakainde Hichilema.
Mr Kakoma said in a separate interview that the 21 UPND members arrested had allegedly not committed any crime and that police should set them free.
"The fracas was ensued after police started firing teargas but our party members were simply lining up to welcome our party leader, "he said.
He said the continuous detention of the members would create a lot of tension in Choma.