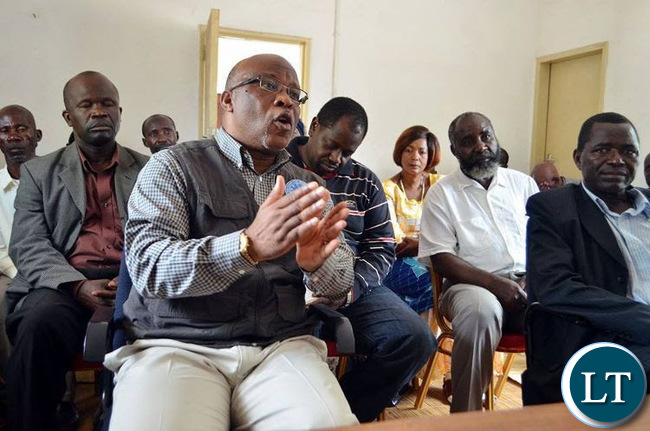 MMD president Nevers Mumba has confirmed he has been communicating with President Lungu to explore possibilities of working with the Patriotic Front (PF) ahead of the August 11 tripartite elections.
And the Zambia Republican Party (ZRP) says it is ready to enter into an alliance with the PF.
Dr Mumba said in an interview yesterday that he is consulting his party structures before he can come in the open over President Lungu's offer for MMD to work with PF.
"I can confirm that there has been some communication between myself and President Lungu on the possibility of us working together during the coming election. I am also studying this offer," Dr Mumba said.
Dr Mumba said that he will shortly respond to President Lungu's offer because he feels it is important to hold consultations within his party before coming out with a response.
He said that he is currently in Western Province where he is organising and mobilising his party ahead of the general elections.
Speaking in Nyimba on Sunday, President Lungu said PF would not have won in last year's elections if it had not worked with MMD.
He also that said when parliament is dissolved, PF and MMD would sit down and decide how they would work together.
And the ZRP says that President Lungu's call to work with the MMD in the August 11 tripartite elections is timely.
ZRP president Wright Musoma said the offer by the PF to again work with the MMD in order to outrightly win in the elections should be encouraged.
"This is the right thing to do. President Lungu's offer to the MMD is a plus and should not be underrated by any well-meaning Zambian," he said.
In an interview yesterday, Mr Musoma urged the MMD to take the offer seriously and respond to the President while at the same time reduce on their intra-party differences.
Mr Musoma contends that with the 50-percent-plus-one vote clause in the amended constitution, no political party would have an outright win in the forthcoming general elections without forming an alliance with other parties.
He said it will be wishful for any political party to think that they do not need an alliance in the August 11 elections.
Mr Musoma said ZRP is ready to join the alliance that President Lungu is proposing with the MMD.