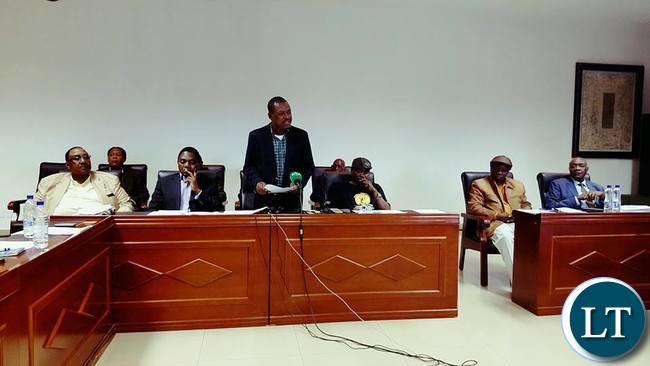 Opposition political parties have pledged not to engage in violent, hate speech and tribal campaigns ahead of the August 11 general elections.
Speaking on behalf of the parties that agreed and signed a communiqué, Rainball Party leader, Wynter Kabimba says the parties will prioritise messages of peace, love and unity.
Mr. Kabimba disclosed that the parties have also resolved to push for the repeal of the public order act and the review of the electoral Act.
He says they also want government to enact the Access to information law.
Mr. Kabimba however clarified that the Consultative meeting is not meant to provide for the formation of a political alliance.
Meanwhile the convener of the Consultative meeting for political parties, Vernon Mwaanga said there is need for dialogue among political parties including the ruling party.
Dr. Mwaanga encouraged the ruling PF to be the one to initiate dialogue with the opposition because it is good for the country.
Political party leaders from the UPND, MMD, Rainball party, Green party attended the media briefing and signed the communiqué.
But Chief Government Spokesperson Chishimba Kambwili says Government will only make a comprehensive statement after studying the statement made by the opposition.
Mr. Kambwili says he has directed the Director of Media and Press in his Ministry to immediately email him the statement issued by the opposition parties.
And PF Secretary General Davies Chama says the opposition Political Parties are desperate and are seeking comfort from each other.
Mr. Chama says some opposition leaders failed to give the people of Zambia a constitution when they had the opportunity to do so.
He told a media briefing that it is surprising that some leaders are calling on people to reject the constitution after being in the forefront advocating for a people driven constitution.
Meanwhile Mr. Chama stated that the ruling Party is headed for a victory this August because of the many development programmes that President Edgar Lungu is spearheading.