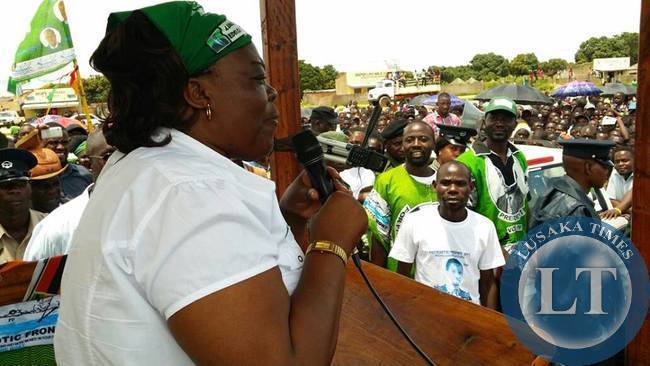 Ruling PF elections chairperson Jean Kapata says the premature campaigns that Kabwata parliamentary aspiring candidate Clement Tembo is undertaking using the PF regalia in the area do not have the blessings of her party, reports Pan African Radio Journalist Hermit Hachilonde.
Ms. Kapata who is also Mandevu Member of Parliament told Pan African radio in an exclusive telephone interview that no one from the PF has sanctioned Mr Tembo to start going round the constituency campaigning under the guise of introducing himself as a PF aspiring candidate.
She says it is against the PF regulations for an individual to declare oneself as the party's area parliamentary candidate before being subjected to laid down procedures and scrutiny.
Ms. Kapata explains that the PF is an organisation that does not conduct its business without following the due processes and rules that govern it.
She has therefore with immediate effect directed Mr Tembo to desist from conducting premature campaigns in the name of the PF to avoid misleading the public that his candidature has been endorsed by the governing party failure to which they will conclude that he is an overzealous and adamant person who cannot be entrusted with leadership at any level.
"He doesn't have the blessings of the party and for me if he continues we will not accept his application letter" Jean Kapata said
The mandevu lawmaker adds that even purported PF regalia his supporters and foot soldiers have been donning are sourced by Mr Tembo using his resources as an individual.
"Because the Chitenge material was being sold by an Indian in an Indian shop and anybody would walk in and buy, but I think he is too adamant and I think that is not the way to go" Jean Kapata said
Meanwhile Kabwata ward six councilor Cassius Mbalazi has advised against jumping the ship in his political career by contesting at local government level as a ward councillor before he thinks of contesting as an MP if he means well for the community he claims he wishes to serve.
Mr Mbalazi further stated that overrating oneself is a bad trait in leadership and always works against such individuals.
"If he is a genuine member of the Patriotic Front and he means well for the party, I would like him to respect party organs and all Senior party members, Honourable Lubinda is a very Senior party member and minister for that matter, if he has been hired to frustrate the MP, we will meet him on the ground because us councilors we are not going to accept to work with him, because there is a lot of immaturity in him and our efforts cannot be guided by such people, therefore when you look at the claims that he want to work for the community, it does not mean that when you clear garbage and build one pit latrine then I have got leadership qualities, if he want to work for the community let him become a councilor first" Cassius Mbalazi said