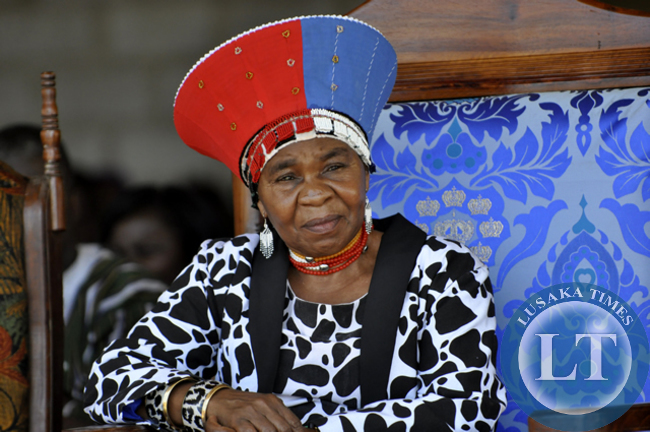 Chieftainess Nkomesha Muka Mambo of the Soli people in Chongwe District has advised PF cadres to stop politicizing government projects in the country.
Speaking when she gave a vote of thanks after Government handed over a relatives shelter to Chongwe District Hospital her Royal Highness said government projects do not belong to political parties.
She said politicizing government facilities has the potential of scaring away other would be user once they feel they would not be welcomed by those perceived to be the owners of the facilities.
She said government projects are for all the people regardless of their political or religious inclination further adding that Republican President Edgar Lungu was the President for the republic regardless of their affiliations hence had a duty to all Zambians.
"I just want to say that this facility should not be highly politicized because if you do that it will scare other people within our communities this is what I am asking. I am saying let it be an institution for the people who have the sick in there. Let be a facility for everyone no matter there their affiliation whether political or religious. This is a government project so let remain so and this appeal goes to you my sons and daughters who will be using this facility," she said.
Her Royal Highness further said the facility will add the dignity to bed siders who were spending nights in the cold when waiting for the sick.
Her concern came after PF cadres chanted PF slogans while mocking the opposition UPND and sang praises for President Edgar Lungu.
Meanwhile government has handed over a 24 bed space capacity Mukosha relative shelter at Chongwe District hospital on Friday.
The shelter was built at the cost 1 million kwacha by the Zambia National Corporation Limited.
Speaking during the hand over ceremony health minister Joseph Kasonde said government will soon start constructing six district hospital staff houses at a cost of 3 million Kwacha.
Dr Kasonde thanked National Airport Corporation limited for supporting the project and the shelter was a much needed facility at the hospital as it serves patients from a wider catchment which makes it difficult for bed siders during the time of nursing the sick relatives.
He said government will always partner with corporate partners who have a Vision to help Zambians to live a health life which is in line with government's vision.
Speaking earlier Zambia National Airport Cooperation Limited Chairperson Mubanga Musakanya said the Project is part of the organization's cooperate social responsibilities and the Cooperation believes in working with genuine strategic partners as well as the community in building a better future for all.
In pic, health Minister and chieftenesse Nkomesha